We want to congratulate Elite Sports Clubs Tennis Professional Annette Malloy for winning the Nancy Mickler Award from the USPTA Midwest division! Annette was chosen for the essay she wrote on how tennis is a lifelong sport, which you can read here.
Nancy Mickler Award Winner
Annette attended an award ceremony on August 15th at the Midwest USPTA annual convention/Western & Southern Open Pro tournament in Cincinnati to receive her award.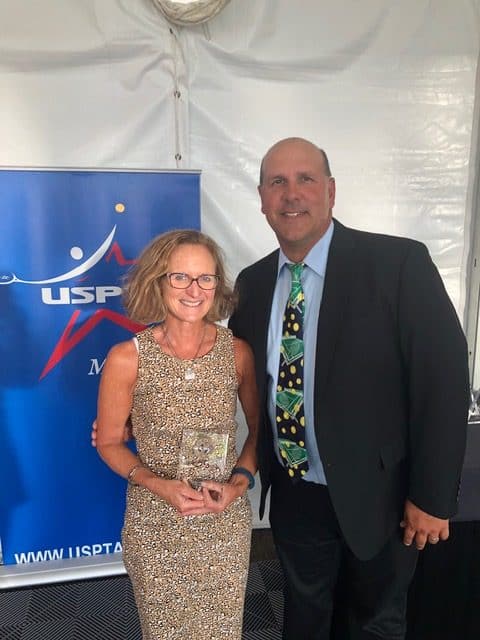 Award-Winning Essay
You can read Annette's award-winning essay below:
My name is Annette Riley Malloy. I was certified by the USPTA in 1988 in Honolulu, Hawaii. I have had a lifetime journey with tennis and am honored and humbled to be nominated for the Nancy Mickler Service Award. Let me tell you about myself and my tennis career.
I am a life-long tennis player starting at about 8 years old in Crystal Lake, Illinois, with a wooden Bancroft racket, gut strings, and white tennis balls. I was one of the first generation of kids that was taught a two-handed backhand and fortunate to have a Chris Evert Autographed racket with the extra long grip. The first Pro that really impacted me as a child was the new pro at our club at the time…Tom Gullikson. I didn't realize how lucky I was!
Junior tennis, summer tennis, and making the Varsity Team for four years alongside some much better players was what I did. I also worked and taught swimming. I loved being part of the team and excellence groups and it was my favorite sport.
I played intramural tennis at a large university and that was just right. Fun, competitive enough, and still gave me time to pursue my journalism degree and other college interests. Alas, no journalism jobs in the early 1980's forced me to pursue another career in hotel management. This led me to Maui, Hawaii.
From then, the interest and love of tennis only got better. I learned that I could hold my own on public courts in pickup games and playing with hotel guests when the pro needed people. It was fun, I was outside in the nice weather, and I was decent enough to adapt to many styles of play.
Through all of these years, I made a lot of friends and found that the game was pretty much the same anywhere in the world. Same court, same rules, same strokes. Tennis players can just hang out together and have a special bond.
I left the hotel industry and landed a job at the Kapalua Tennis Garden. I learned shop operations, stringing, and eventually was an assistant teaching pro after taking the USPTA exam. My career was launched.
From Hawaii, I went back to Chicago and was hired by the Nielsen Tennis Center. I also worked part-time for Lakeshore Athletic Club and even helped string at Northwestern University. Then it was on to Milwaukee – The Brook Club, Westmoor and Merrill Hills, Lake Country Racquet Club, Moorland and Western Racquet Clubs. I currently work for Elite Sports Clubs.
My story is that I am still going. Almost 50 years as a player and 30 years as a teacher and coach. I believe anyone can learn to play this life sport of tennis. Fun, social, good exercise, uses your mind, can be played anywhere on earth, and is available to anyone who wants to give it a try.
Some highlights of the last few years:
Initiated a 10 and Under program at Moorland Tennis Center
Initiated a Home School Tennis Program at Moorland
Started coaching Junior Varsity Tennis at Brookfield East High School in 2015. I coach the lowest level of the No-cut program and have had beginner players with no previous experience play matches by the end of the season. My goal is seeing them return the next year because they had fun and want to continue playing.
For now, I am actively playing doubles and coaching and teaching anyone from age 4 through senior citizens. All levels. I am set to Captain a USTA Senior Team this summer. Yes – Senior tennis here I come!
I have a lot of USPTA Pros to thank for believing in me over all of the years from 1988 to now. Katie Lashbrook, Denny Schackter, Steve Miller, Kaz Yamanoha, Bob Sweezey, Bill Kirsch, Dave Saxe, Scott Ficks, Timon Corwin. Countless owners, managers, fellow pros and coaches, parents, and family.
Tennis has always been in my life. Let the journey continue.
---
If you're interested in joining in the lifelong sport of tennis, find out how you can get more involved in any number of our tennis programs here at Elite Sports Clubs!
Get more involved with Tennis!