Elite is happy to offer pickleball. We have official lines and nets and can supply the paddle and balls. Come learn the game and play!
Pickleball Programs
Join us for pickleball open play, leagues, lessons, and mixers! Contact us for more information.
How is Pickleball Different Than Tennis?
Pickleball has been growing in popularity over the last several years. Not only is it a fun recreational and social sport, but it can also be quite competitive as well. Pickleball borrows rules from a variety of racquet sports but also has its own unique flavor. To help put it in perspective, here's how it compares to tennis. [Read More…]
Open Pickleball Play at Brookfield:
Come out and join your friends or meet new friends to play pickleball. This is open court time pickleball organized by members. Standard court time fees apply. Contact Mike Sharp to get connected to the member organizer for each group.
Mondays, 12:00 – 1:30 PM
Wednesdays, 12:00 – 1:30 PM
Fridays, 10:00 – 11:30 AM
Fridays, 12:00 – 1:30 PM
Saturdays, 12:30 – 2:00 PM

Events Search and Views Navigation
List of Events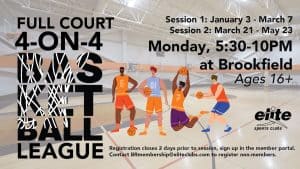 Session 1: 1/03/2022 - 3/07/2022 Session 2: 3/21/2022 - 5/23/2022 You can make your own team OR jump in as a free agent and be placed on a team. Games have a ref, scorekeeper, and stats. Prizes for the winning team! See Scott to get on the Brookfield Basketball email list. Pricing is per session.
+ Export Events