Elite's college-educated, certified personal trainers are at your service. Their knowledge, caring, and positive attitude will motivate ANY BODY to achieve their goals and create healthy habits that will last a lifetime.
Get Started Today!
Getting Started:
We will get you started by setting attainable goals and timelines.
You'll meet with a fitness professional for an initial consultation where we will learn more about your personal goals and connect you with the right fitness programs and services to help you reach those goals.
Your trainer will put you on a plan that is right for you and your body while staying by your side every step of the way to encourage and motivate you.
You will be taught the proper techniques for exercise and strength training, making your workouts more efficient and therefore saving you time and helping you see results faster.
You can then choose from personalized training options to fit your schedule or a more affordable and social option with group training.
New Member Fitness Service!
New to the club? Take advantage of the new member Initial Fitness Consultation to work with an Elite certified personal trainer to meet you where you are with your personal fitness and health goals. This two-part service will include a consultation followed by a custom personal training session focused on your goals. This value-add offering is included within your membership enrollment fee and is only available within the first 30 days of your membership! Ready to train now? Claim your new member's special personal training package rate of three 60-minute sessions for $120!
Schedule Your First Appointment
Why Should You Workout with a Personal Trainer?
Attaining Results
What is a reasonable goal, and how soon can you get there? Our trainers and fitness professionals will guide you in setting attainable goals within a realistic timeline. This means less frustration and better workouts.
Motivation
Whether it's one-on-one attention from a personal trainer or the encouragement that comes from working out with like-minded individuals; you will stay motivated. You'll be challenged to safely push beyond your perceived capabilities.
Accountability
Working with a Personal Trainer helps to increase adherence to an exercise program. Creates accountability for the client through goal sharing and establishing regular appointments.
More Efficient Workouts
We can teach you the proper techniques for exercise and weight lifting, making your workouts more efficient. Our trainers can set you up with an individualized plan that will save you time and help you reach your peak fitness faster. Not to mention, decreased plateauing by providing variety within workouts.
Accommodates Special Needs
Trainers are experienced and educated in designing programs for clients dealing with health issues, pre or post-surgery, rehabilitation, disabilities, or any number of special needs.
Private & Semi-Private Training
Private Training
Private: 30min…$40, 60min…$65
Semi-Private Training
pricing is per person
2 People: 30min…$32.50, 60min…$45
3 People: 30min…$27, 60min…$35
4 People: 30min…$22.50, 60min…$30
Intro Package
new clients only
Private: 3, 60min sessions for $120
Small Group Training
Small Group Training can often be more affordable than private personal training, plus training with a group provides a social environment where you are held accountable for your fitness routine.
Our small group training program follows 6-week sessions that progress in difficulty over that period, while still offering modifications for different fitness levels. Programs usually use a specific modality, or equipment not offered in our complimentary group exercise classes. Like personal training, you will be working with a certified personal trainer who will help you track your progress and improvements over time.
Small Group Training Rates
pricing is per person, groups are made up of 4+ people, open to members joining the group at any time
30min 6-week program…$79
45min 6-week program…$89
60min 6-week program…$99
How to Choose a Trainer
Questions to ask:
Does their motivation and communications style align with yours?
Do they fit your schedule?
Are they educated or experienced in the skills or specialties you're interested in?
Are they your preferred gender? (Yes, you're allowed to ask this!)
Do they specialize in YOUR age group?
What if you don't just don't "jive" with your current trainer?
The bottom line is you have to feel a connection with your trainer and they have to motivate you to be your best self.

Events Search and Views Navigation
List of Events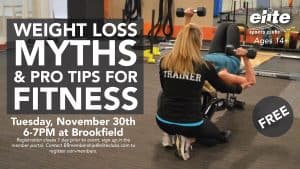 Let's face it, exercising for weight loss is a topic of conversation for most people. Do you know what is fact from fiction? Join Mary Stauder, Elite fitness expert and leader, in an engaging discussion on unpacking the myths surrounding weight loss, while also learning some pro tips for your exercise routine! All members will have access to the new member Initial Fitness Consultation service, where they consult with an Elite certified personal trainer to design a custom program design…
+ Export Events