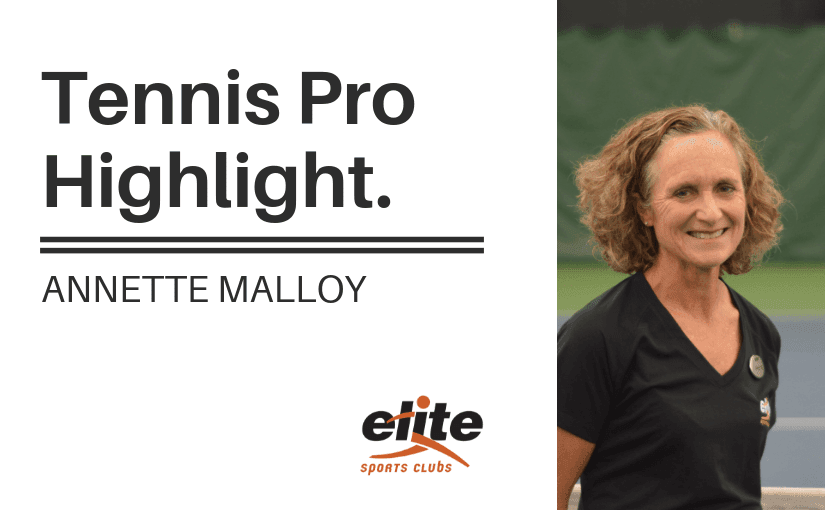 Annette Malloy is an experienced USPTA Tennis Professional at Elite Sports Club-Brookfield. With over 45 years of tennis experience, Annette joins our reputable team of tennis pros. Learn how Annette Malloy can help you become a better tennis player!
Meet Annette Malloy
What position(s) do you currently hold at Elite and any you have held in the past?
I am a tennis staff professional and I teach junior groups, and private and adult lessons. I help run tennis events, mixers, and other tennis happenings at the club.
How long have you been playing tennis?
I've been playing tennis for over 45 years.
What made you want to become a tennis pro?
I love being outside and keeping active. I was lucky that I had the skills and training to pursue a career in something that I love to do.
What is your favorite part about your job? About tennis in general?
It is a joy to see how playing tennis makes people happy. It's social, provides great exercise, and is a lifetime sport that is popular world-wide and for all ages and abilities.
What activities do you participate in at the club or outside of the club besides tennis?
I swim, walk, and keep on top of a busy family schedule. I plan on trying more classes at the club to maintain fitness.
How would you encourage someone who is considering tennis for the first time?
Give it a try! Anyone can learn how to hit the ball. It takes practice but once you have the basics, you will be surprised at how many others are the same level as you. The more you play, the better you get and opportunities to get involved are plenty.
What advice do you give people who are just starting out in tennis?
Practice and patience. Try your best and believe that you can do it!
---
Are you an experienced tennis player? Have you had a tennis lesson with Annette Malloy? Tell us about your experience, or perhaps your own personal tennis story!
Share Your Story!
SaveSave
SaveSave
SaveSave
SaveSave
SaveSaveSaveSave
SaveSave