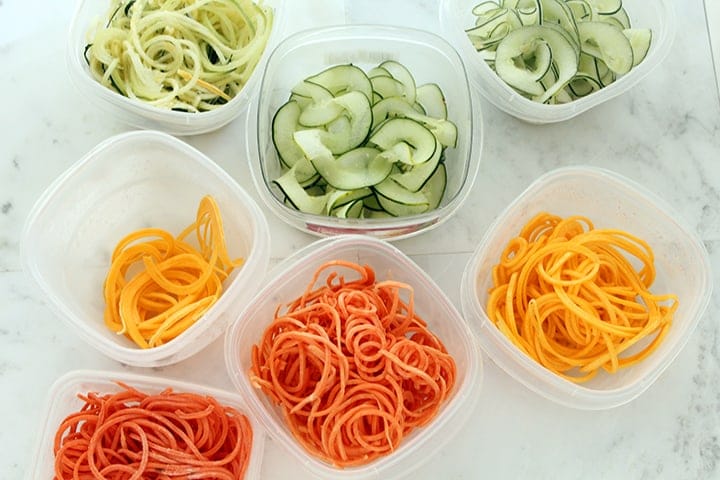 Cutting processed carbs can be extremely difficult—especially for those who love noodle-filled dishes. But trying to clean up your diet does not mean you have to cut out the recipes that you love. You simply need to make healthier substitutions! So for all you pasta lovers out there, we found the perfect alternative, vegetable noodles!
Veggie noodles are fresh, low in natural carbohydrates, gluten-free, and packed with nutrition. Here is everything you need to know about swapping out pasta for vegetables!
What are vegetable noodles?
Vegetable noodles are any vegetable that has been cut to look like a traditional noodle, usually in long strands like spaghetti noodles.
The most common vegetables used for "noodling" are carrots, zucchini, squash, cucumbers, sweet potatoes, eggplant, and beets.
---
How to make your own vegetable noodles
There are some pretty awesome gadgets out there that can create the perfect veggie noodle!
Here are some popular choices:
When creating your vegetable noodles, make sure to take the following into account: 
Use the freshest produce to make your noodles.  Limp or soft veggies do not work well with most of these cutters.
Find vegetables with a thick diameter because thinner vegetables are more difficult to cut.
Stay away from crook-necked squash and oddly shaped veggies. When it comes to cutting veggie noodles, the straighter the vegetable, the better!
---
Delicious Vegetable Noodle Recipes to Try!
You can also try adding your own homemade basil pesto to your veggie noodle of choice.
Here is an awesome guide to help cook your veggie noodles!
---
Have you tried vegetable noodles? What are some of your favorite recipes?
Schedule a Nutrition Consultation