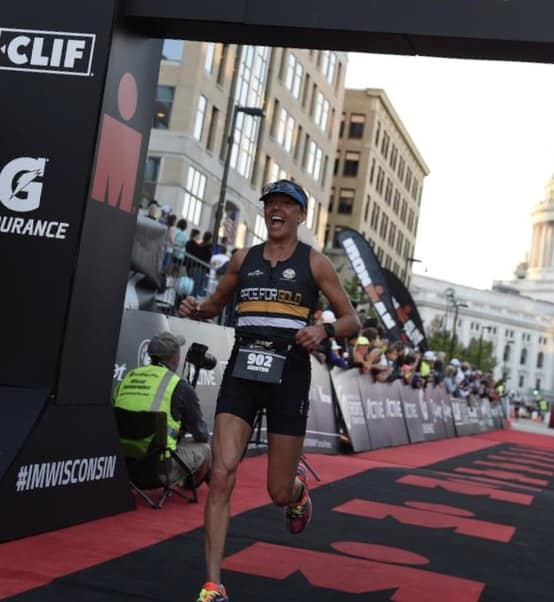 Setting goals is an important step towards achieving them. Sometimes we can get lost or lack the motivation while working towards them, which can push us off track. Here's how one of our members, Kristen Dudas, accomplished one of her childhood goals. Having passion, finding motivation, and preparation were key in her journey to succeeding in her goal: completing an Ironman.
Kristen has been a member at Elite since 2009, when she moved to the Milwaukee area from Stevens Point. "Having three young children at the time and my passion for triathlons and tennis is what drew me to the club. Elite has a good mix of it all, with awesome facilities," explained Kristen. She typically frequents the Mequon location and enjoys swimming, whether it is to prepare for one of her triathlons or to spend time with her children.
Throughout the years, Kristen has taken advantage of the wide variety of classes and programs the club has to offer, such as personal training, strength, spinning and yoga classes, tennis and swimming. Her children also enjoy spending time in the swimming pools and gym.
Living Your Passion
Kristen has been a very active person her entire life. "It is definitely something that fulfills me, both mentally and physically." She has been living her passion of tennis and running since she was a young child, and has participated in physically high-demanding competitions since then. She created the habit of training "with practice, diligence, discipline, great mentors and coaches, and support of others. The community I grew up in had an awesome running program and tennis was thriving. I was fortunate to be a part of both."
As a child, she was part of the Stevens Point Area Running Club (SPARC), which offered a great introduction to track meets across the midwest. She was also part of her high school Tennis, Track, and Basketball teams, and Varsity Track and Cross Country at the University of Notre Dame from 1992-1996.
She has done three half-marathons, several triathlons—sprint, Olympic, and 70.3 distances over the course of 20+ years. She has also run the Chicago and Boston marathons twice each, in addition to Milwaukee and Madison marathons. Her most recent race was the Ironman Wisconsin 140.6 on September 9, 2018, which consists of a 2.4-mile swim, 112-mile bike, and a 26.2-mile run. "I've always loved running and the sport of triathlon. It's not hard for me to keep going, it's more difficult for me to stop."
Kristen typically spends time preparing for her triathlons by swimming in both the indoor and outdoor pools at Elite, where she also enjoys fun and quality time with her three children. She finds she naturally prioritizes her training and fitness with her lifestyle as a mother of three children, Physician Assistant, and Holistic Health Coach.
Finding Motivation
Many of us want to accomplish similar goals, however, typically our reasons and motivating factors that push us towards those goals vary. Setting goals is a good first step towards achieving them, but sometimes that might not be enough to make you keep working to see them through. Kristen's main motivation to keep participating in different triathlons has always been self-driven. "I definitely feel my best when I'm active and training for triathlon."
Being passionate about what you do definitely has a significant influence that will make the journey towards achieving your goals a lot simpler. At Elite, we offer a variety of amenities that will help you on such a journey. Whether you want to follow a specific diet to lose/gain weight, create an individual workout plan, perform physical activities in a fun and friendly environment, or simply socialize with your family and friends, we are here for you.
Making Goals
Kristen had the goal, since she was 17, to do an Ironman. Her passion for running, her motivation, self-discipline, success and enjoyment of competition and sport, kept triathlon a prevailing part of her life.
Throughout the entire process, Kristen was never alone. She had people by her side who motivated, mentored, and trained her. Paul Staddler, her high school mentor, played a very important role on Kristen's initiation to triathlons and getting her to the point she is today. He noticed that Kristen excelled in sports and recognized her passion for running, leading to his encouragement to race a triathlon. She completed her first triathlon during college. Sadly, Kristen's mentor passed away at the age of 45 from cancer.
Preparation
"I believe there is both physical and mental preparation. For me, mental preparation is powerful. The wrong mindset or disruption can lead to a detrimental downward spiral. Achieving mental mastery has far-reaching impact."
Mental Preparation
Since childhood, Kristen believed in the power of the mind and used different techniques of visualization and positive psychology to help prepare herself for competition and events. "'If you can, meet with triumph and disaster, and treat those two imposters just the same,' was on the back of one of my favorite t-shirts as a kid. This quote arose for me again this past year as I trained to be able to have a successful Ironman, knowing many aspects of the outcome of the day were out of my control." She continues to use techniques of visualization and places emphasis on mental preparation, by working with a coach who incorporates the role of the mind.
While training for the Ironman, Kristen tapped into a mental playlist—this could be music, a poem, or mantra. She would call upon her "why," the personal reasons and motivations for completing an Ironman. "During training and competitions, I command to mind a particular mantra. I incorporated many strategies my coach taught me, one called 'The Zone of Optimal Functioning.'"
Physical Preparation
Kristen started a dedicated training program nine months prior to her Ironman. She followed a specific plan for swimming, biking, and running. Having done several triathlons and marathons in the past, in addition to being a very active person, helped her have a very strong base going into her training. Kristen utilizes the club primarily for swimming. She additionally incorporates running, biking, yoga, stretching, strength, and core work into her training plan.
She establishes personal goals for every race, including the Ironman. "While setting goals is key to success, I also learned to focus on the process, allowing the outcome to take care of itself. This involved learning to identify and control the controllable, and let go of that which is out of my control."
Nutritional Preparation
"Basics like sleep, hydration, and nutrition can't be overlooked," emphasised Kristen. Nutrition is an important aspect when it comes to preparing for long distance endurance events, both prior and even during the race. She made clear the importance of needing to fuel your body throughout the day of the Ironman. It is an area that Kristen believes she was lacking in her previous races. She followed a nutrition plan which was critical in the success she had in the event. "I brought a lot more focus into it, whereas in the past I think I neglected the element of nutrition and its impact on training and performance.
Finding Success & Keeping it Going
Achieving goals and childhood dreams is something we all work towards, however, it is important to take a break when needed. Not doing so can be detrimental. Knowing how much your body can take is crucial.
Although her main motivation to compete and be part of such events is self-driven, she was not alone throughout the process. She used different types of resources to help her achieve her goals and she will continue to do so for as long as she can. "I'll continue to do triathlons regularly, being active with swimming, running, and biking. I definitely plan to do another Ironman, and in the near future will continue to do half marathons and triathlons. I think it'd be fun and challenging to do Xterra and definitely want to be an angel for My Team Triumph."
"I can apply several lessons from training and completing Ironman to life. Discomfort will occur during any element of personal transformation or growth. That's OK, especially when it's accompanied by a feeling of sheer excitement. I now recognize this more often, this feeling of being out of my comfort zone. This is where learning, improvement, and expansion starts. I love triathlons and find them fulfilling, challenging, and fun. I'd love to talk to anyone who is interested in getting started or learning more about running and triathlons."
We are very proud to have Kristen in our community at Elite Sports Clubs. We are happy we have helped her in her training with our pools, yoga classes, personal training, spinning, and tennis. We consider ourselves lucky to be a part of our members' daily lives and share in their success towards accomplishing their goals.
---
This article appeared in the 2019 Winter Edition of Elite Life Magazine