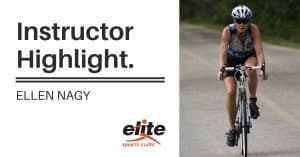 Ellen Nagy is a certified group exercise instructor at Elite Sports Clubs. Ellen shares a special connection with her class participants and loves to help them along on their fitness journey. Learn more about her fitness background and what classes she teaches in this blog highlight!
Meet Ellen Nagy
What classes do you currently teach?

I teach Spin from 10:30 – 11:15 am on Wednesdays at Elite-Mequon.
How long have you been teaching group exercise?
I have been teaching exercise classes for over 2 years, but I joined Elite in June 2020.
What made you want to start teaching group exercise?
Love the camaraderie and I enjoy choreographing rides to music.
What is your favorite part about teaching your class(es)?
Getting to know people. I love listening to everyone's stories and where they are at in their fitness journey. I hope that my classes help them succeed in their goals.
What is your favorite song or style of music to teach to?
Classic rock. You can check out one of my class playlists here.
What is your favorite exercise to do in your class?
Long hills and sprints. They're challenging, fun, and definitely get the heart rate up!
How do you stay active outside of your own classes?
I lift, swim, and run. I've started walking the Oak Leaf trail and in my neighborhood. I will be training for Ironman Wisconsin in the spring.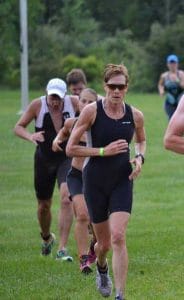 What else do you enjoy doing in your free time?
Traveling, reading, cooking, and being with family.
What advice do you give people who are coming into your classes for the first time?
Don't worry about what anyone else is doing. Focus on your own workout.
What personal advice do you give someone who is looking to get to a healthier point in their life?
It doesn't have to be an all or nothing mindset. Find something you enjoy and make it a habit.
---
Have you taken a class with Ellen Nagy? Tell us about your experience, or perhaps your own personal health & fitness story!
Share Your Story!
SaveSaveSaveSave