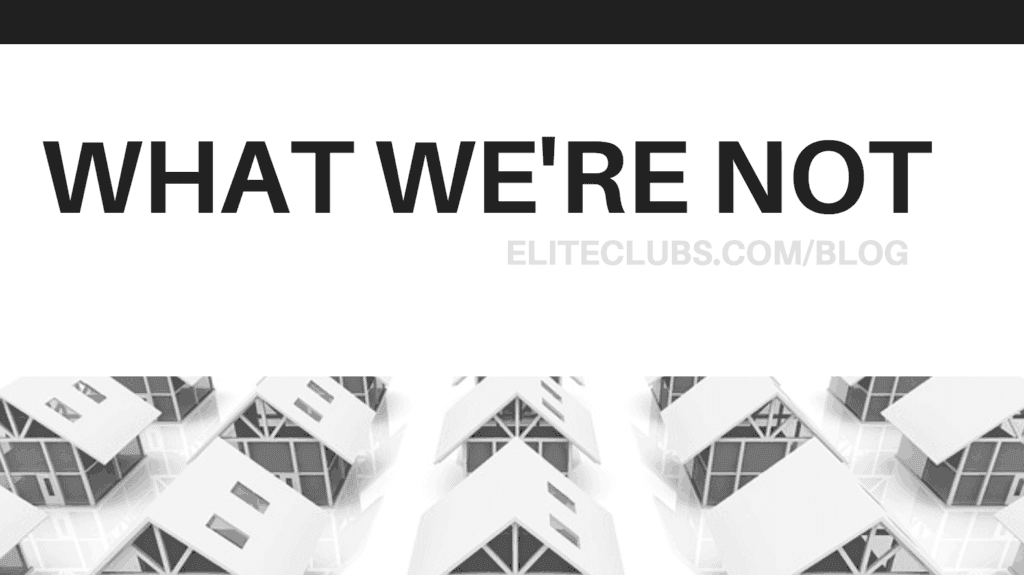 As many of our members already know, Elite Sports Clubs are a little different than your typical "health club." We often spend time explaining to new members who we are and what we do to help orient them to the club, but every so often the point tends to get across a little better by instead explaining what we're NOT.
Elite Sports Clubs – What We're Not:
For starters, we're not a high pressure, sales-oriented club, promoted by high priced performers. Instead we're in the customer service business. It's our job to make sure that we're the right fit for you, and then once you do become a member, to make sure we continually service your changing needs.
We're also not a nationally syndicated facility that's oversold at your expense. There's many chain gyms and brands out there, and that's fine, they fill a very specific need in the market. But we fill a different one; one that's holistic, family-centered, and service-oriented. We don't want you to join and then forget about you. We actually WANT you to come in and use the clubs!
We're not the type of club that comes with canned "packages" either. We don't give the same program to every person who walks in the door. Instead, we'd rather spend some time with you and really get to know you and your family. That way we can create custom programs to help you reach YOUR goals, not someone else's.
We're not really a "young" person's club either—both in membership age and also our time within this community. We've been locally owned for over thirty years and although we stay up-to-date with our equipment and science-backed methods; we don't hop on every new trend either.
We're not a club where you need to lose a certain amount of weight or wear the latest fitness fashion to be accepted. Our clubs are more of a lifestyle than a "quick fix," we want you to feel comfortable here for the long-term.
What we're not is a facility staffed by 20 year olds in great shape but with little to no professional training. All of our instructors and trainers are certified professionals, often with college degrees in their field. We even require all of our staff to be CPR certified.
As we mentioned right away, we're not just another gym and you're most certainly not just another number in our computer's billing system. We make a point of really getting to know all of our members and their families so we can greet you when you come in, service your needs while you're here, and continue to encourage you each day you return.
Really, when it comes down to it, we know we're not for everyone. And that's okay! If you're looking for the latest diet and supplement hype, glitzy trends, gimmicky weight-loss ads, or cut-rate programs, we're probably not the right club for you.
BUT if you are looking for the highest quality fitness and racquet sports programs in the area…well then we're most definitely the club for you!
So, if you're not already a member and are still interested after reading what we're not, then we encourage you to check out our website and come in for a tour! (And if you ARE a member, share what you're happy Elite is NOT in the comments!)
Schedule a Tour