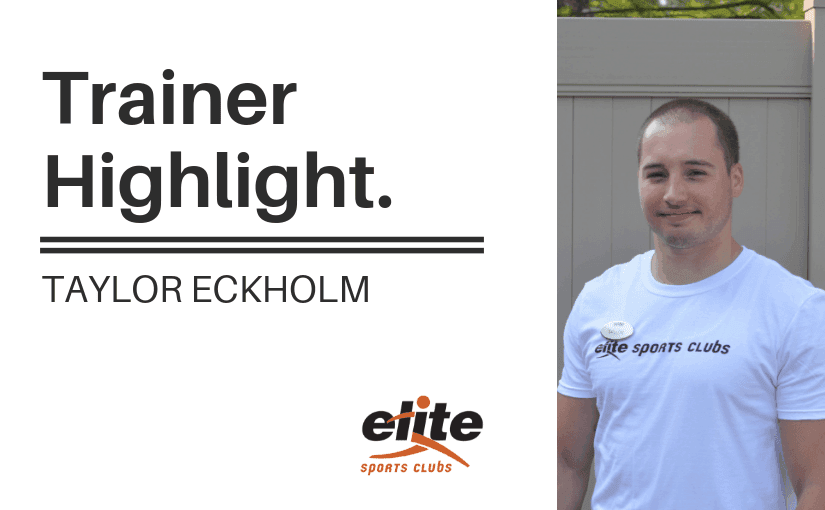 Taylor Eckholm is a certified personal trainer at Elite Sports Club – Brookfield. As someone who loves to engage with members, Taylor is looking to help transform lives through personal training and fitness advice. If you're looking to get to a healthier point in life, Taylor Eckholm is your guy!
Meet Taylor Eckholm
Out of which Elite locations do you conduct training?

I train at Elite-Brookfield.
How long have you been a personal trainer and how long have you worked at Elite?
I've been personal training at Elite for about 3 months now.
What made you want to start working as a personal trainer and/or for Elite?
I was always passionate about fitness. I wanted to share that with others and help transform lives. As for Elite, this is a great club with an amazing atmosphere. Who wouldn't want to work here?!
What is your favorite part about being a personal trainer?
My favorite part about being a personal trainer is meeting so many awesome people and building relationships. Every person in the gym is here to better themselves and that's pretty inspiring to me.
What areas of exercise/fitness do you consider to be your specialty?
Rotational athletes of all ages. As well as anyone looking for a resistance-style trainer to build muscle and look better.
What has been your biggest personal struggle with health/fitness?
Being able to balance good nutrition with a little fun as well. In the past I would get so set in my diet that going out to eat caused me anxiety and made it tough to just enjoy time spent with family and friends. I have been able to find that balance as of late and have learned to relax more and still maintain a good diet.
What has been your biggest personal accomplishment with health/fitness?
Every little win is important. That's why I love fitness. Each day, each workout is finished with a sense of accomplishment. I put 100% effort in every time and that sets me up for the rest of the day. So much can be learned about yourself through time spent in the gym.
What advice do you give people who are starting a workout program for the first time or after a long absence?
Patience is everything. Nothing happens overnight. The key is to be mentally strong and go until you create a habit, because habits are hard to make but equally hard to break.
What advice do you give people who are struggling to make health/fitness a priority or are getting bored/burned out?
Switch it up. Don't settle for the monotonous boring workouts. There are so many ways to make fitness fun. If all else fails, either buy yourself new gym clothes or add new songs to a playlist. Those are some little tricks of the trade I've used in the past.
What personal advice do you give someone who is looking to get to a healthier point in their life in general?
Get out and get moving. Every step is a step in the right direction. Practice delayed gratification. What you do today WILL benefit you down the road. I promise.
---
Have you trained or had a fitness assessment with Taylor Eckholm? Tell us about your experience, or perhaps your own personal health & fitness story!
Share Your Story!
SaveSave
SaveSave
SaveSave
SaveSave
SaveSave