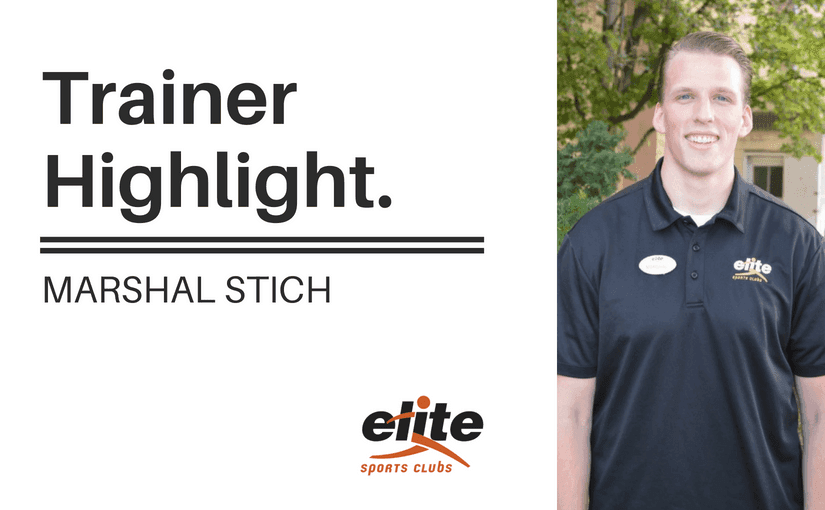 Marshal Stich is a certified personal trainer and group exercise instructor at Elite Sports Club-River Glen and Elite Sports Club-North Shore. Marshal loves to teach his clients all about health and fitness so they can improve their quality of life. Whether it's creating the ideal fitness program or providing a few words of encouragement, Marshal will be there to make sure you're always making progress. Learn more about Marshal Stich!
Meet Marshal Stich
Out of which Elite locations do you conduct training?

How long have you been a personal trainer and how long have you worked at Elite?
I've been teaching group exercise for 3 years and have been personal training for 1 year. Have been with Elite Sports Clubs for one year so far.
What made you want to start working as a personal trainer and/or for Elite?
I've always liked to teach! By being a personal trainer I get to teach clients how to move their body correctly and how to use exercise as a way of improving their quality of life.
What is your favorite part about being a personal trainer?
My favorite part about being a trainer is meeting new people. It's actually my personality to be a bit introverted, but being a trainer helps me to build new relationships and I enjoy getting to know the members at Elite.
What areas of exercise/fitness do you consider to be your specialty?
I consider functional training a specialty of mine. Functional training benefits everyone, from older adults to high level athletes! This type of training looks at functional movements and places an emphasis on purpose. Without purpose, what's guiding your workout?
What has been your biggest personal struggle with health/fitness?
My biggest personal struggle is letting my nutrition get away from me on the weekends. I'm good about planning and preparing my meals during the week, but I find it hard to stick to my plan Saturday and Sunday. Of course a cheat meal here and there is okay, but moderation is key!
What has been your biggest personal accomplishment with health/fitness?
When I was about 17 years old, I was seeing a chiropractor for low back pain. We discovered I have a fracture in my L5 vertebrae. It was an obstacle that I didn't exactly know how to overcome at the time, but as I continued to train and improve my strength the pain went away! Today I can continue to train and lift heavy weights, but in a smart and functional way.
What advice do you give people who are starting a workout program for the first time or after a long absence?
Be patient. Ultimately, we want to make exercise a part of your life, which takes time. Start with a reasonable process goals. An example of a process goal could be making it to the gym twice per week, or attending a new group exercise class each week. You may have other goals in mind, such as weight loss, but by following your process goal you'll begin to see improvements in your mood, energy level, and eventually your body composition may begin to change.
What advice do you give people who are struggling to make health/fitness a priority or are getting bored/burned out?
If you struggle to make your health a priority or get easily burned out, it may be as simple as creating a plan, and updating that plan every so often. It seems many people enter the gym without a game plan and end up doing a bit of this and that, not really having a meaningful workout. This leads to low adherence. I suggest if this is how you feel, recruit a trainer for help. A personal trainer will be able to create a well programmed workout and help you plan your week so that exercise becomes a priority. A plan keeps you accountable and on track. If you're feeling bored, meet with your trainer for a program update!
What personal advice do you give someone who is looking to get to a healthier point in their life in general?
Becoming healthier is simple in theory, but difficult in practice. Having a partner can help! Ask someone to join you in living a healthier lifestyle. Also, it's best to start small and gradually make more changes as you go. Try preparing one meal for the week, or find different ways to add more physical activity to your day. Take the stairs, park farther away, or do a lap around your workplace. If you break up your day with bursts of activity you'll spend less time being sedentary! However, don't forget to take the next step. As you move forward you'll need to increase the frequency, time, and/or the intensity of your activity to see continued progress.
---
Have you trained or had a class with Marshal? Tell us about your experience, or perhaps your own personal health & fitness story!
SaveSave
SaveSave
SaveSave
SaveSave
SaveSave
SaveSave
SaveSave
SaveSaveSaveSave
SaveSave
SaveSave
SaveSave
SaveSave
SaveSave
SaveSave
SaveSave
SaveSave
SaveSave