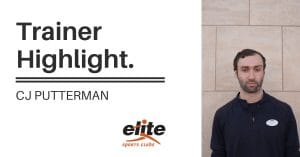 CJ Putterman is a certified personal trainer at Elite Sports Club-Mequon. Progress is what CJ strives for all the time, both for his clients and himself. Learn all about CJ Putterman and his personal training background!
Meet CJ Putterman
Out of which Elite locations do you conduct training?

I train at Elite-Mequon.
How long have you been a personal trainer and how long have you worked at Elite?
I had 2 years of personal training experience before starting at Elite in November 2019.
What made you want to start working as a personal trainer and/or for Elite?
It felt like a natural next step in my career. Elite provided me an opportunity to learn and grow as a personal trainer.
What is your favorite part about being a personal trainer?
Connecting with clients and working together to reach their goals.
What areas of exercise/fitness do you consider to be your specialty?
I specialize in weight lifting, strength & conditioning, and sports-specific training.
What has been your biggest personal struggle with health/fitness?
I struggled with overcoming an injury that prevented me from training to the extent that I previously had. It was difficult to find a new normal while still working to get back to my pre-injury state of fitness.
What has been your biggest personal accomplishment with health/fitness?
I learned how to clean & jerk and snatch.
What advice do you give people who are starting a workout program for the first time or after a long absence?
I tell people that effort can get them where they want to go. Training yourself to be consistent makes the process easier. Showing up is the easy part. It's what you're willing to put out that will make the difference.
What advice do you give people who are struggling to make health/fitness a priority or are getting bored/burned out?
Find a passion and set realistic short-term goals to find excitement in what you're working towards.
What personal advice do you give someone who is looking to get to a healthier point in their life in general?
Consistency in both movement and diet can provide the healthy pillars needed to improve quality of life for years to come.
---
Have you trained with CJ Putterman? Tell us about your experience, or perhaps your own personal health & fitness story!
Share Your Story!
SaveSave
SaveSave
SaveSave
SaveSave
SaveSave