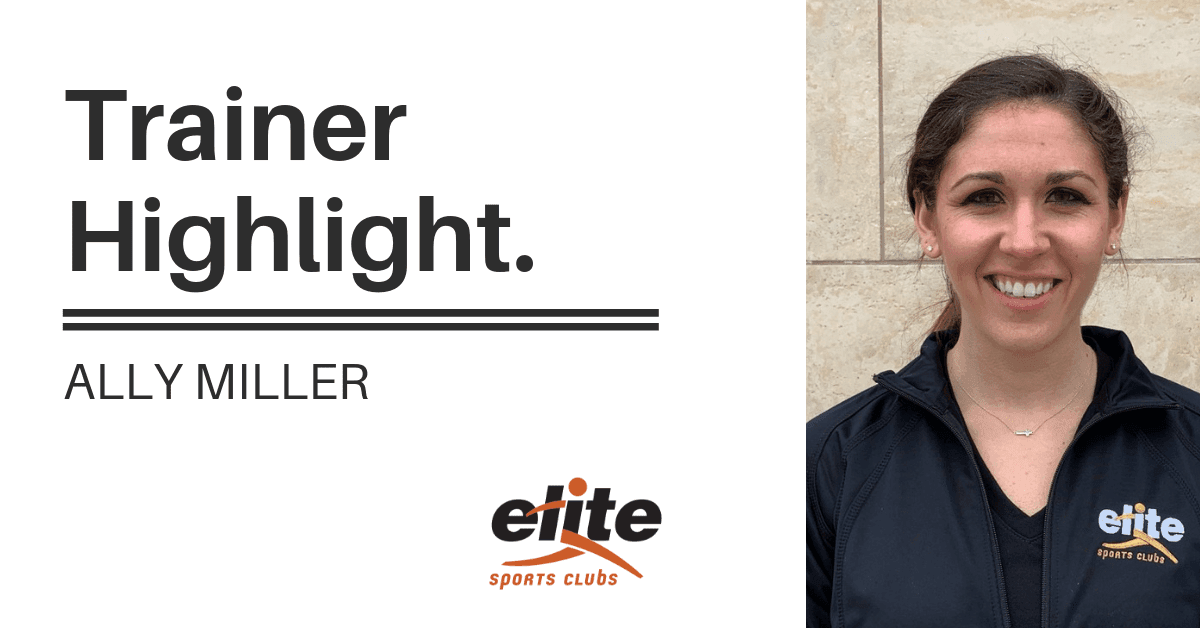 Ally Miller is a certified personal trainer at Elite Sports Club – Mequon. Ally specializes in functional strength and endurance training. If you need a little extra accountability, Ally is there to motivate and push you closer to your fitness goals! Learn all about Ally Miller here.
Meet Ally Miller
Out of which Elite locations do you conduct training?

I work and train at Elite-Mequon.
How long have you been a personal trainer and how long have you worked at Elite?
I joined Elite as a personal trainer in April 2019.
What made you want to start working as a personal trainer and/or for Elite?
Elite is a very reputable organization and has a great culture. I enjoy the family atmosphere and admire their commitment to putting their members first.
What is your favorite part about being a personal trainer?
Fitness has a huge impact on one's health. I love being able to help individuals with their health and fitness goals in the gym so that they can leave here feeling great and able to enjoy what they really love and care about – whether that's playing their their kids, participating in various sports, or performing daily activities.
What areas of exercise/fitness do you consider to be your specialty?
I consider my areas of specialty functional strength and endurance training as well as cardio conditioning.
What has been your biggest personal struggle with health/fitness?
Despite having a background in strength and conditioning as a collegiate athlete, as a woman, I was intimated going to the gym by myself to lift heavy weights. I mostly stuck to cardio equipment, dumbbells, and group exercise classes. While this is great, I realized I would not achieve my fitness goals without a personalized strength program.
What has been your biggest personal accomplishment with health/fitness?
Winning Marquette University's first ever Big East Soccer Championship my senior season at Marquette University and being named an All-American.
What advice do you give people who are starting a workout program for the first time or after a long absence?
Start slow and build a solid movement-quality foundation first. While this requires patience, in the end you will reap many benefits by preventing injuries and being able to maintain and progress further in the long run. Just know that if you're dedicated and consistent, you will see the results you are looking for so have faith and trust the process.
What advice do you give people who are struggling to make health/fitness a priority or are getting bored/burned out?
Find an accountability partner and/or someone to work out with, whether it's a trainer, family member, or friend. This will help keep you on track and make it more fun!
What personal advice do you give someone who is looking to get to a healthier point in their life in general?
It's never too late to start! Begin with small changes first. That could be eating a healthy breakfast or going to the gym once a week for 30 minutes. Even small changes can make a significant impact in how you look and feel.
---
Have you trained with Ally Miller? Tell us about your experience, or perhaps your own personal health & fitness story!
Share Your Story!
SaveSave
SaveSave
SaveSave
SaveSave
SaveSave