Earlier this season, you pulled the bike out, wiped off some dust and pumped the tires. Sound familiar? Did you forget to clean and lubricate your bike? I hope not! Would you drive your car without washing it or not checking the oil and other fluids? Failure to do so would result in your car not working properly or failing you completely. The same could be said about your bike. Some simple and routine home maintenance can keep your bike riding smoothly and safely for years to come.
Develop a schedule.
How often you clean your bike will depend on how often and how hard you ride, as well as the conditions you ride in. Wet and muddy conditions will require more frequent cleaning, as will high mileage weeks. Generally, a weekly schedule for high milage weeks and wet or dirty conditions is a good place to start. If you aren't riding as much, once every few weeks or once a month is adequate.
Gather your supplies & get to work.
There are a few things you need for your day at the bike wash. Clean rags, soap—either diluted dish soap or a preformulated bike wash—water, brushes, bike solvent to help clean up the areas that get gooped up, bike lube, and a multi-tool.
Use a degreaser to apply to your chain, and wipe it down well with a rag, as well as the derailleur, wiping off any gummy deposits. Using clean water and your diluted soap solution, you can clean your frame and wheels, working from front to back, top to bottom. Use a rag to wipe away deposits, and a soft brush to clean the wheels and surfaces which the brakes come in contact with. Use clean water (use spray vs. a stream if using a hose end nozzle) to rinse your bike, and wipe it dry with a clean, dry rag.
Once your bike is clean, it's time to lubricate. A little lube will go a long way, so no need to over-do it! You should lubricate after washing, or a few times a year, depending on use. Areas to focus on include your chain and derailleur. Wipe the chain, and apply a thin bead of lube while turning the crank. Too much lube can actually act as a magnet to attract more dirt and grime. Get all moving parts of the derailleur as well. Also, a little lube on the cable housing can prevent rust and shifting issues, as well as a little on the brake pivot points can keep your brakes in check.
Lastly, before you head out on your next ride, perform a quick inspection. Use your multi-tool to secure any loose nuts or bolts, being careful to not over-tighten. Check to see that your brakes and shifters are not rotating on the bars, and are functioning properly, as well as your ability to shift. Inspect your wheels, making sure there are no flat spots and the wheel is round and not deformed. If you are uncertain about anything, or aren't confident everything is secure, don't ride, and visit your local bike shop. In fact, it is a good idea to schedule an annual tune-up and visit with a bike shop before you ride. Schedule your bike for service in late winter. If you wait until the weather is nice, the bike shops will be overwhelmed and busy, and it may be weeks before you get your bike back!
As always when riding, safety first.
Ride on the right side of the road, and obey all traffic laws. Always wear a helmet. No helmet, no ride! Wear garments that are bike friendly (no long and loose pants), and a high visibility color shirt or vest, as well as secure a safety light to your bike.
Have fun, and enjoy your ride!
---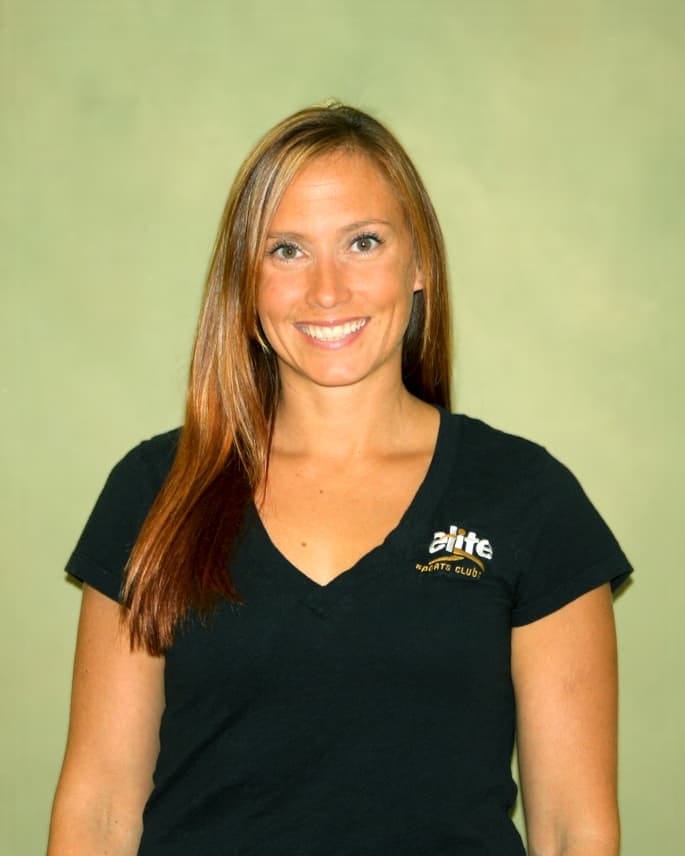 By Melissa Radmer, Group Exercise & Fitness Director at Elite Sports Club-West Brookfield
Melissa Radmer has been a part of the Elite Sports Clubs team since 2002 and is now the Fitness & Group Exercise Director at the West Brookfield location. She holds a BS in Exercise Physiology and Exercise Leadership, as well as certifications as a personal trainer, Les Mills instructor, spinning, zumba, pilates and gravity training. She has a passion for multi-sport and endurance events, including half-marathons, triathlons, and the infamous Tough Mudder. Her main areas of focus are sports performance training, cardiovascular programming, and post-injury training.
Get Started! Tell us about your goals!