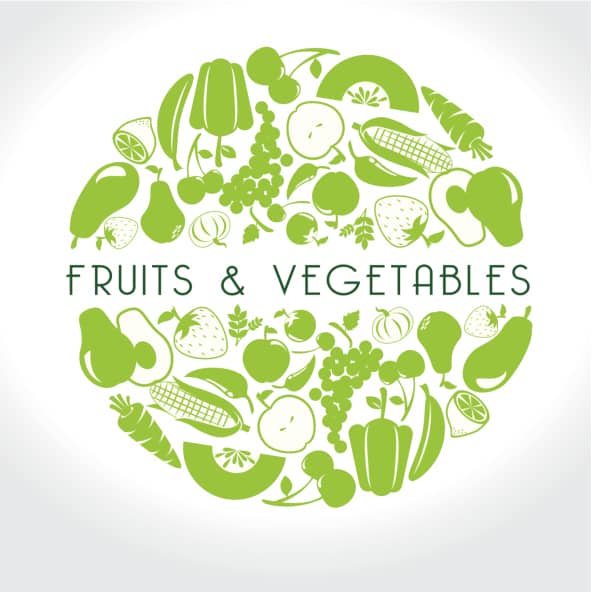 How many servings of fruits and vegetables do adults actually need per day? 5-servings per day will be sufficient to supply needed nutrients. A serving is considered ½-cup cooked vegetables and 1-cup raw or fresh vegetables. Whatever the case, it will take some dedication to provide these important foods to your diet. It will, however, make a tremendous difference.
So, why eat MORE fruits and vegetables?
Top 10 Reasons to Eat MORE Fruits & Vegetables:
Fruits and vegetables are nutritious and delicious!
Fun to eat! Some crunch, some squirt, some you peel, some you don't, and some grow right in your own backyard!
Quick, natural snack. Fruits and vegetables are nature's treat and easy to grab for a snack.
Variety. Fruits and vegetables are available in an almost infinite variety; there is always something new to try.
Vitamins and minerals. Fruits and vegetables are rich in vitamins and minerals that help you feel healthy and energized.
May reduce disease risk. Eating plenty of fruits and vegetables may help reduce the risk of many diseases, including heart disease, high blood pressure, and some cancers. (Check out this article on the link between diet and disease.)
Low in calories. Fruits and vegetables are naturally low in calories. They will fill you up and keep you from being hungry for more caloric foods.
Fiber. Fruits and vegetables provide fiber that helps fill you up and keeps your digestive system happy. (Check out this 4-part series on fiber.)
Convenience. Fruits and vegetables are nutritious in any form…fresh, frozen, canned, dried and 100% juice. So they are ready when you are.
Color and Texture. Fruits and vegetables add color, texture, and appeal..to your plate.
Try this recipe for an extra boost of vegetables at your next meal!
Savory Vegetable Stir-Fry
"Yellow squash, zucchini, carrots and red onion combine to make this sassy stir-fried side dish that's ready in just 20 minutes!"
Yield: 6 servings
Ingredients:
1 tablespoon olive oil
2 medium yellow squash, sliced
2 medium zucchini, sliced
1/2 (16 ounce) package baby-cut carrots
1 medium red onion, cut in half and thickly sliced
2 packets concentrated vegetable broth (or equivalent)
Directions:
Heat the oil in a 12-inch skillet over medium-high heat.
Add the yellow squash, zucchini, carrots and onion and stir-fry until the vegetables are tender-crisp.
Stir the concentrated broth in the skillet and cook until the mixture is hot.
Note: True "baby" carrots are a seasonal vegetable available in spring and early summer and are sold in bunches with the green tops left on. They can usually be found in upscale grocery stores or farmers' markets. "Baby-cut" carrots are mature carrots that have been peeled and cut into small carrot-shaped pieces. They are widely available year round in the produce section of most grocery stores.
Nutritional Information:
Servings Per Recipe: 6
Amount Per Serving
Calories: 70
Total Fat: 2.6g
Sodium: 291 mg
Total Carbs: 11.4g
Dietary Fiber: 3.3g
Protein: 2g
Need more recipe ideas for adding more fruits and vegetables into your diet? Follow our Recipes board on Pinterest! You can also set up a consultation with Elite's Registered Dietitian for a personalized meal plan:
Schedule a Nutrition Consultation
---
By Rita Larsen, RD, CD; Elite Sports Clubs Nutrition Educator & Diet Counselor