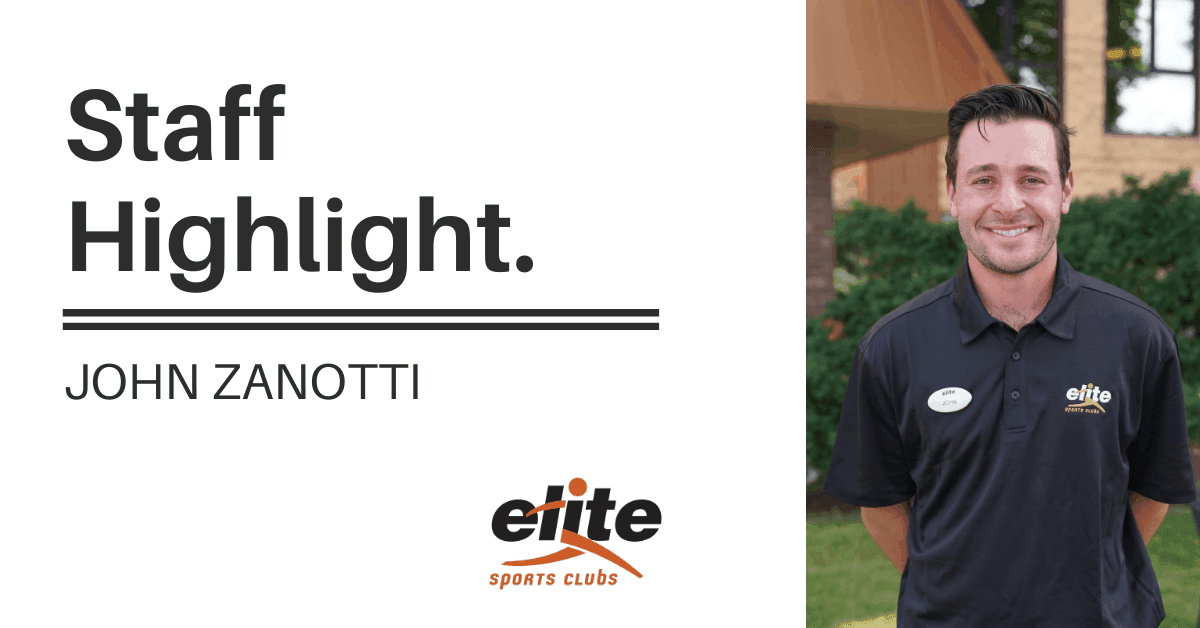 Meet John Zanotti, the new membership services representative at Elite Sports Club-North Shore. John is excited to help people get active and social at the clubs. Learn about his background as a tennis player, with Elite, and his own health experiences.
Get to Know John Zanotti
What position(s) do you currently hold at Elite and any you have held in the past?
I'm a membership services representative at Elite-North Shore.
How long have you been working in the health/fitness/tennis industry and how long have you worked at Elite?
I have worked in tennis for 5 years. As a teenager, I'd assist tennis professionals at Lake Country Racket & Athletic Club with their beginner lessons. After that, while in college, I managed tennis instructors at Arrowhead High School's summer tennis program. This is the first time I've been employed by Elite, but I played tennis at North Shore for a summer.
What made you want to start working in this industry and/or for Elite?
There are two things that brought me to Elite. First is tennis. I grew up believing that athletics is a fantastic way to grow in character. Tennis gave me the opportunity to work hard, meet new friends, and most importantly, have fun! The second attraction was a customer service position. I enjoy volunteering and I was looking for a position to help other people. I can help people in membership services by offering a place to better physical and social health.
What is your favorite part about your job?
I can't say yet! I'm sure that I would able to answer this in a few months. So far I have appreciated all the time and assistance from my coworkers. The other people in membership services have been phenomenal and management has made me feel very welcome. It's like I'm already apart of the family.
What activities do you participate in at the club or outside of the club that are health/fitness/tennis related?
I am heavily involved in tennis. I'm intending on receiving a coaching license so I can assist our professionals and maybe coach some high school or college tennis. I also plan on running my second triathlon next summer.
What has been your biggest personal struggle with health/fitness/tennis?
My biggest physical struggle has been to gain weight. When playing a cardio-based sport through college, it's difficult to gain muscle mass. I'm excited to start using protein and shaping my body into something different.
What has been your biggest personal accomplishment with health/fitness/tennis?
My biggest tennis accomplishment is placing in second in the Midwest Conference tennis tournament. I completed this achievement as a freshman in the 3 doubles flight.
What advice do you give people who are coming to the club for the first time?
Get involved! Join classes you've never tried and socialize. Tennis clubs function just like country clubs. There is a large social portion to your membership.
What advice do you give people who are struggling to make health/fitness/tennis a priority or are getting bored/burned out?
Try something new! Everyone measures health in their own way. Personally, I measure my health based in how fast I can run 3 miles. If you're not a runner like me, try a spin class, try hot yoga, swim at River Glen, or play some tennis. I find it easy to get bored when working out. When that happens, I'll try something new that will both benefit me and help me achieve my goals.
What personal advice do you give someone who is looking to get to a healthier point in their life in general?
Construct good habits. What I think is important is that these habits are consistent and easy. For example, I will eat anything I want, but I make sure that my plate is as colorful as possible. I'll eat green veggies, covers to fruits, wheat bread and some delicious red meat!
---
We love to tell stories about our staff and our members. If you have a story to share, tell us all about it and we'll share it on our blog!
Share Your Story!
SaveSave
SaveSaveSaveSave
SaveSave
SaveSaveSaveSaveSaveSaveSaveSave
SaveSave
SaveSave