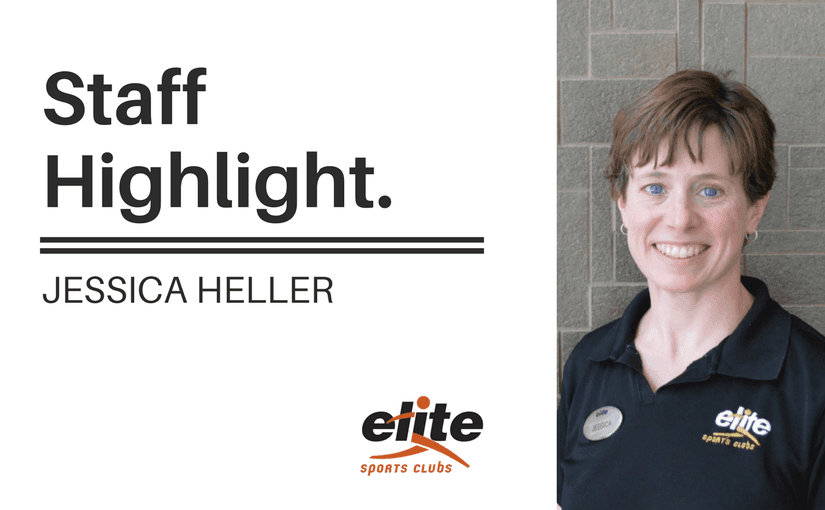 Jessica Heller is the Aquatics Director at Elite Sports Club-Mequon. She teaches a wide array of aquatics exercise classes, swim lessons, and conducts aquatic personal training. As a certified strength and conditioning specialist as well as a certified water safety instructor, Jessica specializes in an "outside the box" teaching style to ensure her students get the most out of their lessons/training sessions. Learn more about Jessica Heller!
Meet Jessica Heller
What position(s) do you currently hold at Elite and any you have held in the past?
Aquatics Director since 2010; water exercise instructor, swim instructor, and personal trainer since 2007; Red Cross Lifeguarding, CPR, and First Aid instructor since 2010.
How long have you been working in the health/fitness/tennis industry and how long have you worked at Elite?
I have been in the health industry since 2002 and have worked at Elite since 2007.
What made you want to start working in this industry and/or for Elite?
My original career was in the healthcare field, and for a variety of reasons, I was disenchanted with it and started looking for a career change. I was already a certified personal trainer and also had previous experience teaching water exercise and swimming lessons, so moving into the health and fitness field was a natural fit.
What is your favorite part about your job?
I love seeing both adults and children learn new skills. I also like working with "outside the box" clients, including special needs students, orthopedic rehab clients, and anyone that needs a "different" approach than normal. As a manager, I like helping my younger staff grow into competent, accomplished, well-rounded adults.
What activities do you participate in at the club or outside of the club that are health/fitness/tennis related?
I compete in 3-4 sprint triathlons and/or open water swim races each summer. I also enjoy hiking and backpacking, and my family loves geocaching. In the club, I attend Cycle, Pilates, and Yoga classes, as well as swimming on my own.
What has been your biggest personal struggle with health/fitness/tennis?
I have an old knee injury from a childhood snowmobile accident. Because of that, I have to be careful as I age with how much wear and tear I put on that joint. I also have to make sure I consistently do resistance training for my lower body, or the joint stiffens up and causes other aches and pains.
What has been your biggest personal accomplishment with health/fitness/tennis?
My biggest accomplishment has been showing my own daughters that anyone can be an athlete. They now both compete in kids' triathlons in the summer, so they can be like mom!
What advice do you give people who are coming to the club for the first time?
Set an end goal and then take smaller steps towards it. For example, with my first pregnancy, I signed up for a triathlon four months after my expected due date so that I would have a goal to help me keep exercising to lose the baby weight.
What advice do you give people who are struggling to make health/fitness/tennis a priority or are getting bored/burned out?
Find activities that aren't "exercising," preferably ones your whole family can do together. Hiking, kayaking, joining a tennis or basketball league, ice or roller skating, and swimming are all more enjoyable than monotonous minutes on the treadmill.
What personal advice do you give someone who is looking to get to a healthier point in their life in general?
Turn off the TV. Learn to cook rather than eating out. Find a hobby or activity you enjoy. Get outside. Work to live instead of living to work.
---
Have you taken swim lessons or an aquatics exercise class with Jessica Heller? Tell us about your experience, or perhaps your own personal health & fitness story!
[maxbutton id="12″ ]
SaveSave
SaveSaveSaveSave