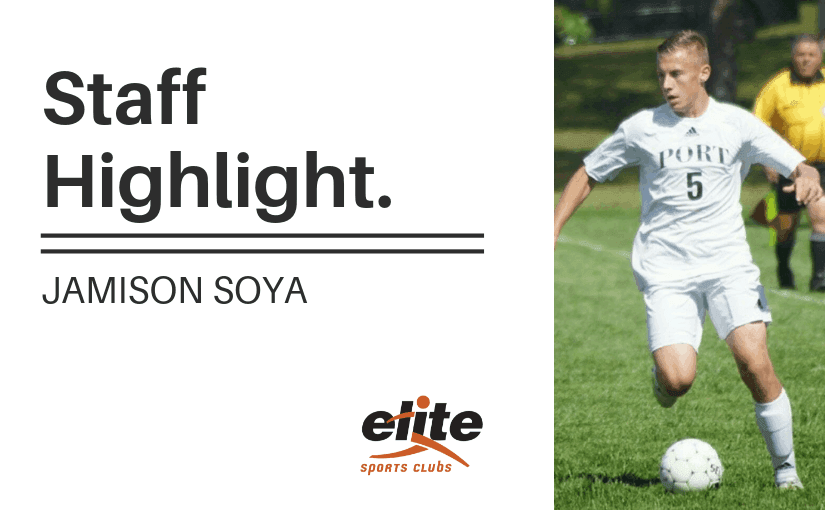 You've probably seen Jamison Soya around the clubs, even when he's not working, because he's here all the time! Jamison wears many hats at Elite Sports Club-Mequon, and enjoys working and generally being a part of the Elite community. Get to know the soccer extraordinaire who is Jamison Soya!
Get to Know Jamison Soya
What position(s) do you currently hold at Elite and any you have held in the past?
I currently am Front Desk staff, Cafe Attendant, eZone worker, and Operations Manager at Elite Sports Club-Mequon. I was formerly a Marketing Intern here at Elite as well.
How long have you been working in the health/fitness/tennis industry and how long have you worked at Elite?
I have worked at Elite for over 2 years.
What made you want to start working in this industry and/or for Elite?
My brother was Front Desk staff for Elite-North Shore and showed me how great and social of an environment Elite is. Then I applied to work at Mequon and was excited to meet all of the amazing members/staff in the Elite community.
What is your favorite part about your job?
The incredible people that walk through the door and take the time out of their day to actually talk. Along with that, I just enjoy the general environment. I work 30 hours every week but I spend about 70 at the actual club doing my school work, using the club, and talking to all of the people I have gotten to know. Ask my coworkers. I practically live there.
What activities do you participate in at the club or outside of the club that are health/fitness/tennis related?
In the club, you can generally find me in the fitness area, in the yoga classes, on the tennis courts practicing, and in the basketball court area working on freestyle soccer juggling. Outside of the club I play competitive soccer, and currently am training to run my first and second marathons.
What has been your biggest personal struggle with health/fitness/tennis?
My biggest struggle is when I get small hang ups that hinder my progress. With tennis, I have been struggling with my serve. In my running, I have reached a distance where my Achilles muscles start to get tight. In soccer, it is the commitment of my teammates showing up. The biggest struggle for me is all of the small things that prevent me from fully moving forward.
What has been your biggest personal accomplishment with health/fitness/tennis?
The biggest achievement will be when I complete my first marathon in April, but as of now the biggest is the 18 years of soccer I have under my belt.
What advice do you give people who are coming to the club for the first time?
Talk to the staff. Get to know them. They will give you suggestions and help you make connections with others in the club. They can tell you their suggestions on classes, trainers, or general activities to make your club experience the best possible.
What advice do you give people who are struggling to make health/fitness/tennis a priority or are getting bored/burned out?
Set small goals. If you want to run a 5k, start by running a mile. Then set incremental time goals to help you make progress along the way. Small goals will give you a constant sense of accomplishment that will help prevent burn out.
What personal advice do you give someone who is looking to get to a healthier point in their life in general?
Just make it to the club. The hardest step is getting through the door. Once you make it there, you will be more apt to work out and start your health journey because there's so much you can do here. Along the way, get to know people. That way you have more encouragement and reason to get to the gym.
---
Have you ever seen Jamison Soya around the club working at the front desk or at the poolside grill? Tell us about your club experience, or perhaps your own personal health & fitness story!
Share Your Story!
SaveSave
SaveSaveSaveSave
SaveSave
SaveSaveSaveSaveSaveSaveSaveSave
SaveSave
SaveSave