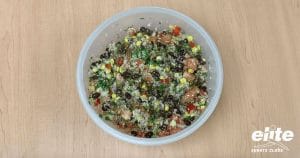 We've got another healthy and delicious recipe for you to try! Watch our video how to make this Southwest Quinoa Salad. This salad is super easy to make, full of nutritional value, and tastes great, too!
Southwest Quinoa Salad Recipe
This salad is packed with protein, fiber and a variety of vitamins. It's light, flavorful, and will keep you feeling fuller, longer. Try topping it with chopped avocado for an added serving of healthy fat.
Prep Time: 10 minutes
Cook Time: 20 minutes
Yield: 6 servings
Ingredients:
Salad:
1 1/2 cups quinoa, prepared according to package directions
1 can black beans, drained and rinsed
1 cup frozen corn, thawed
4 green onions, chopped
1 cup tomatoes, chopped
1 bell pepper, chopped

 

1/2 red onion, chopped
1 cup fresh cilantro leaves, chopped
Dressing:
1/4 cup olive oil
2 Tbsp. fresh lime juice
1 Tbsp. apple cider vinegar
1 Tbsp. cumin
1 tsp. minced garlic
Salt and pepper
Directions:
Cook quinoa per package instructions, then let cool. While quinoa cooks, prepare other ingredients.

 

In a large bowl, combine vegetables and cooled quinoa.

 

In a small bowl, whisk together dressing ingredients. Add salt and pepper to taste.

 

Pour dressing into salad and stir to distribute.

 

Serve warm or let chill before serving.
For more healthy, yet tasty recipes, check out our Pinterest page!
Get more recipes, follow us on Pinterest!