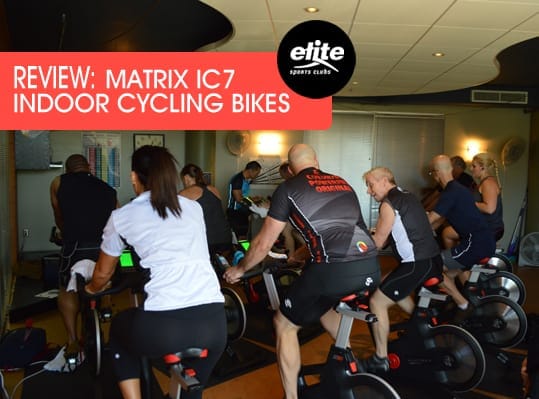 Matrix Coach by Color FTW? WTF!!!!???
There is some new terminology buzzing around the fitness center and cycle room at Elite Sports Club-West Brookfield. The club is home to the newest technology in indoor cycling, housing the new Matrix IC7 bike. Wondering what makes this bike so unique and a cut-above?
It's the new light up computer display and Coach By Color. Each bike is outfitted with a computer that will give the rider immediate feedback and real-time values to observe, such as your RPMs, your level of resistance, watts (power output), FTW %, heart rate, calories, and more! There is no more guessing if you are working hard enough or too hard, it's all right in front of you!
You may already be familiar with RPM and resistance, but what is watts and FTW? Watts is the power you produce, using a combination of the speed at which you pedal and the force you use to move the resistance you have on your bike. Monitoring your watts—just like monitoring your heart rate—will help you to train smarter.
The FTW, Functional Threshold Watt Rate, is the value focused on. (What is the highest level of work you can achieve and maintain, while staying functional—performing the task at hand well?) This is a percentage of your threshold wattage, which can be estimated by entering a variety of factors into the bike computer, or by performing a specific test. Once the values are entered, your instructor will coach you through your ride by using color! Your monitors will change colors based on your work zone, or specific percentage of your FTW. Regardless of your ability or fitness level—whether you are a seasoned outdoor rider, or a casual cycling participant—all levels can ride side by side, share the same work color, and work based on their individual FTW.
This bike is incredible! We are the first club in North America, second club in the world, to have these bikes. These bikes have the ability to transform our members and our classes. Coach by color can help participants realize their work effort, and deliver immediate feedback, which can be used in goal-setting and program design; helping members achieve their goals.
Aside from the color display, the display shows RPMs, your level of resistance, watts (power output), FTW %, heart rate, calories, and more! Gas-assist seat adjustments make setup easy, along with additional handle bar settings to adjust for comfort. The 300-degree magnetic resistance adjustment lets riders quickly dial-in the perfect resistance level with just a flick of the wrist—offering 100 levels.
Since their debut just over a week ago, members have really enjoyed seeing their values and work in front of them, and are enjoying the Coach by Color concept. There is no more guessing if you are working hard enough or too hard, it's all right in front of you!
But don't take my word for it, check out some of our members' reviews:
A woman I work with here joined the gym a couple of years ago. She has had some back issues so she doesn't spin as often as she would like to, but last night, she brought her college age daughter and they both LOVE the new bikes.  So much so, that the daughter got a summer membership just so she can spin. -Linda D.

The new IC7 bikes are amazing. Take your indoor cycling routine to a new level. The computers keep you focused and motivated to challenge you…no cheating allowed! Thank you for purchasing these bikes for our club. -Leslie L.

For someone who has been doing indoor cycling for over 20 years, the addition of the Matrix IC7 indoor cycles and the Coach by Color system at West Brookfield is an incredible breath of fresh air for indoor cyclists. With built-in watt meters, the instructors can now create individualized training zones based on a personalized Functional Threshold Watt rate (FTW). The new data available on the bikes allows you to create an intense workout that is insanely fun! I went to one of Melissa's FTW test sessions to get my personalized FTW and it has totally taken my workouts to another level. And since everyone's FTW is different, all class participates can work together in the same color zones, which makes group training a blast! While I thought I was working hard on the old bikes, the watt meter never lies! -Sean D.
We invite you to come try the new bikes yourself! Check out our online indoor cycling calendar to find a class that works with your schedule. You're also welcome to stop by our Fitness Center desk or ask any trainer to help you get set up on the bikes at your convenience. We will determine your personalized FTW and get you cycling with Coach by Color in no time!
Indoor cycling and other group exercise classes are included in every Elite Sports Clubs membership. Not a member yet?
Schedule a Tour
---
By Melissa Mueller Radmer, Fitness & Group Exercise Director at Elite Sports Club-West Brookfield