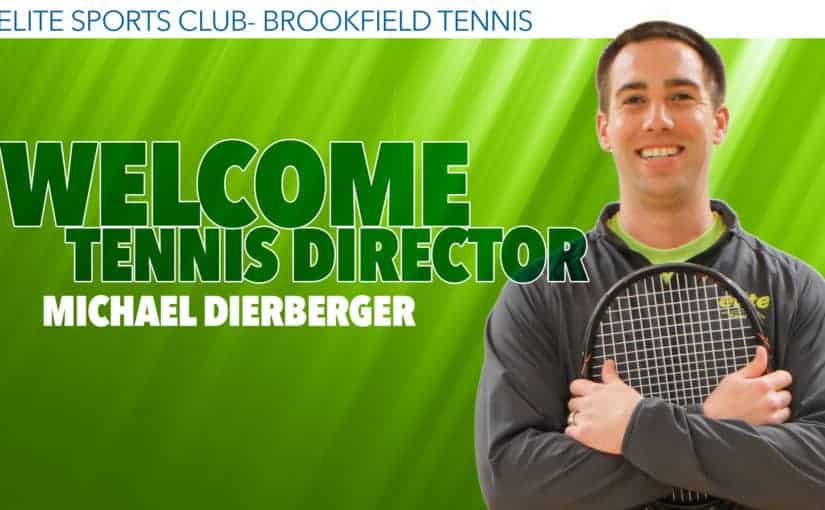 Locally owned Elite Sports Clubs is excited to announce that it has named Michael Dierberger as the Tennis Director for the Brookfield location at 13825 W. Burleigh Road, Brookfield, WI. Elite has the largest tennis program in the state and Wisconsin's largest junior program. With 40 courts between the five area clubs, they were the first to use indirect lighting and implement the 10 and under QuickStart youth tennis program.
As Tennis Director, Dierberger will lead a dedicated and knowledgeable staff at the Brookfield Elite Sports Club leading the junior tennis program and overseeing the year-round program for adults and children, from beginner to accomplished player.
Dierberger boasts an impressive resume. He started learning the game of tennis at Elite Clubs when he was only 10 years old, spending hours playing with other members, taking private lessons and competing in tournaments. As a junior player, since the age of 10, he was ranked #1 in Wisconsin, #2 in the Midwest, and #15 nationally. In 2006, he graduated from Nicolet High School with a career record of 120-4, playing #1 singles all four years, as well as winning three consecutive individual singles state championships, and three consecutive team championships. He also received the Frank Parker Award for athletic and academic excellence.
After a successful high school career, Dierberger was recruited to play tennis at the University of Wisconsin-Madison. During his four years on the team, he competed in the NCAA Tournament for four consecutive years. In his senior year, he was named captain and led the Badgers to the Sweet 16 for the first time in the program's history.
Dierberger is a Milwaukee resident and most recently was a tennis pro at Elite's North Shore club in Glendale, where he has held that position for the past five years.
"Mike has a strong background in tennis and grew up playing here at Elite," stated Kay Yuspeh, owner of Elite Sports Clubs. "His success at every level as well as his passion for the sport is a great combination and will help us continue to offer the best tennis program with the best facilities in the area for members, non-members, and the community," she added.
"I look forward to working along with my team of instructors to offer a great class line-up including a fantastic summer tennis program open to non-members and am excited to grow the tennis program here at Brookfield Elite even further," said Dierberger.
Elite Sports Clubs Brookfield location offers eight indoor and two outdoor courts, more than any other tennis club in the area. Programming includes USTA 10 & Under (QuickStart) lessons, Junior Tennis programs and adult tennis programs at all levels.
---
We invite you to come and meet Michael Dierberger as we welcome him to his new position as the Tennis Director at Elite Sports Club – Brookfield. Join him for light bites and refreshments in the Tennis Lobby on the following days & times:
Tuesday, February 21, 4:30-8:30pm
Friday, February 24, 10:30am-1:30pm
Stop by anytime! This is a great opportunity to say hello and ask any questions about our tennis program. We look forward to seeing you there!
Get more involved with Tennis!