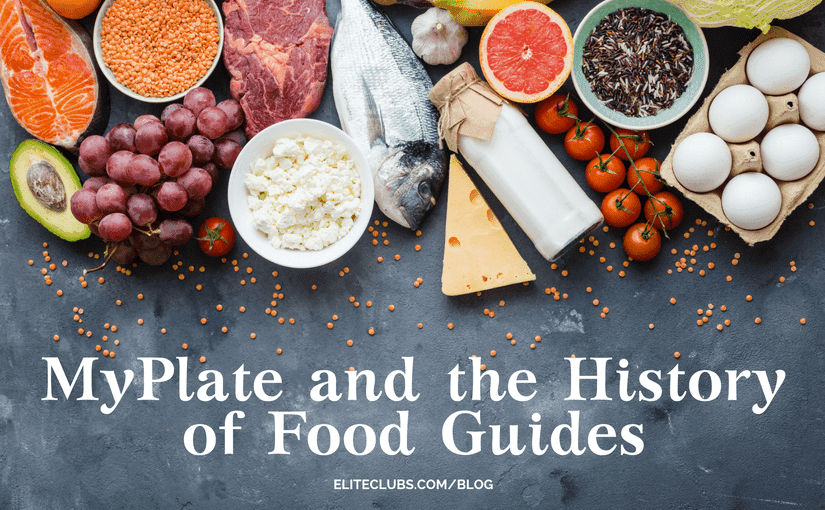 The United States Department of Agriculture (USDA) has presented several Food Guides over the last 70+ years to help consumers create the ideal diet. These guides are visual representations of the nutritional recommendations for that time period. The newest of the USDA Food Guides is called MyPlate. Before we get into what MyPlate is, let's take a quick look at the history of USDA Food Guides.
1940s: A Guide to Good Eating (The Basic Seven)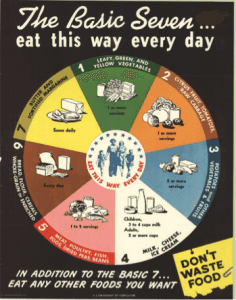 This Food Guide was the foundation for diet adequacy and was considered complex for its time. It includes the daily number of servings needed from each of seven food groups. However, it lacked specific serving sizes for each food group. The basic seven food groups include:
Leafy, green, and yellow vegetables
Citrus fruit, tomatoes, and raw cabbage
Potatoes and other vegetables and fruits
Milk, cheese, ice cream
Meat, poultry, fish, eggs, dried peas, beans
Bread, flour, cereals, whole-grain or enriched
Butter and fortified margarine
1956-1970s: Food for Fitness, a Daily Food Guide (The Basic Four)
This Food Guide set goals for nutrient adequacy by setting specific recommendations for serving size from each of four food groups. It does not, however, include guidance on appropriate choices for fat, sugar, and overall calorie intake. The basic four food groups include:
The milk group
The meat group
The vegetable and fruit group
The bread and cereal group
1979: Hassle-Free Daily Food Guide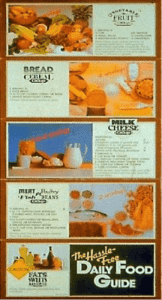 In 1977, the first edition of the Dietary Goals for the United States were released. These dietary guidelines provide advice to promote health and reduce risk for major chronic diseases. They have been released every 5 years since 1980. Based on the first version of these guidelines, the Hassle-Free Daily Food Guide was created. It used the basic four food groups from previous years with the addition of a fifth group. The fifth group highlighted the importance of moderation with fats, sweets, and alcohol.
1984: Food Wheel: A Pattern for Daily Food Choices
This version of the food guide formed the basis for the Food Guide Pyramid. It showed a total diet approach that included goals for both nutrient adequacy and moderation. The daily amounts for each of the five food groups from the previous version are shown at three calorie levels.
1992: Food Guide Pyramid
The Food Guide Pyramid was the first food guide to use consumer research to raise awareness of new food patterns. It focused on the concepts of variety, moderation, and proportion. Like the previous version, it includes the range for daily amounts of food at three calorie levels. The Food Guide Pyramid also includes a visualization of added fats and sugars in each of the five food groups as well as in the top of the pyramid.
2005: MyPyramid Food Guidance System
This version was released along with the 2005 Dietary Guidelines for Americans. It included updated food patterns and daily amounts of food at 12 calorie levels. This simplified illustration of the Food Guide Pyramid added an area for oils and an emphasis on physical activity.
2011: MyPlate
The most recent version of the food guides is MyPlate. This was introduced along with the 2010 Dietary Guidelines for Americans. While different in appearance than every other food guide, it is meant to serve as a reminder for healthy eating without proposing specifics. The shape is intended to be a visual cue for the familiar mealtime set-up. The name itself, with the inclusion of "My", continues the personalization approach from the MyPyramid of 2005. As a reminder for healthy eating, MyPlate encourages people to focus on variety, amount, and nutrition. Recommendations include choosing foods and beverages lower in saturated fat, sodium, and added sugars. Small changes help to build healthy eating styles that last a lifetime. Some of these small changes include:
Make half your plate fruits and veggies

Focus on whole fruits over fruit juice
Vary your veggies

Make half your grains whole grains
Move to low-fat and fat-free dairy
Vary your protein routine
Eat and drink the right amount for you
Now that we've taken a trip through the last 70 years, which food guide do you think is the best? The most inclusive? Are there more changes to be made to MyPlate? If you have questions about food guides or want to know what the ideal portion sizes are for you, come see me for a free nutrition consultation!
Schedule a Nutrition Consultation
---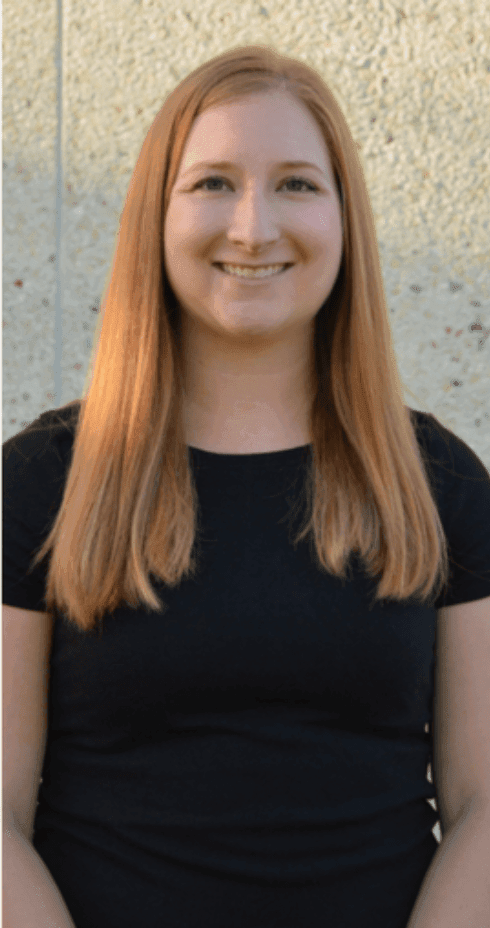 Written by Sarah Brunner, RDN, CD; Elite Sports Clubs Registered Dietitian
Sarah is certified in food allergies/intolerances and nutritional counseling, Academy of Nutrition and Dietetics; has a certificate in Dietetics from Mount Mary University; and a BA in Education and Mathematics from the University of Wisconsin – La Crosse.
SaveSave
SaveSave