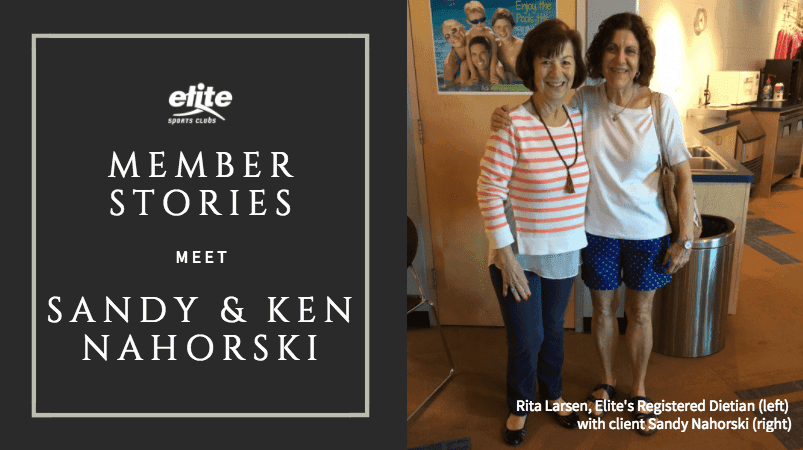 Meet Sandy and Ken Nahorski, this dedicated Elite Sports Club – West Brookfield couple have been coming to the club consistently for over two years. They came to the Milwaukee area several years ago, but have been members of this Elite for going on three years. They previously had lived in Oklahoma most of their lives.
The Nahorski's currently live across the street from Elite Sports Clubs, and when Ken came home from the doctor diagnosed with some medical issues, they both decided to join the "club across the street."
"We could not imagine dealing with the health problems without the opportunity of a good fitness facility." Sandy stated that she was there to help her husband but soon became very interested in what she would be able to get involved with herself at the club. Both had been good fitness pals through the years, often working out 4-5 days per week, but never as focused on all aspects of their lives.
Sandy in particular feels that both she and Ken have good genes and have had very good health through the years. That includes good blood pressure, good cholesterol, and at this point only use a little concern for the family history of Type 2 diabetes. So, they had had smooth sailing for many years and felt that the fitness and possibly a new dietary approach, would keep them "rolling" for many years to come. Whereas not to reveal their ages, we can only say that they are just now contemplating retirement.
The Nahorski's have always enjoyed the best of food without much concern. However, as a part of Ken's new medical concerns, they found that it would help to reduce their body weights and make better choices. And, they both wanted to work together as a team.
At this point, Sandy contacted Elite's club dietitian, Rita Larsen, for guidance. And it was only guidance that Sandy received because at the very start Sandy had a good hold on how she wanted to go about a nutrition program.
"Often times, we as dietary trainers do not need to tell people exactly what to eat but rather, just give them direction. Sandy, however, constantly said that she felt that by writing everything down that she had a good feel of how much she is eating and where are the stresses of the day. Some days were high and some were perfect. On high days, she would just get back on track. You have a magic number that will allow you to stay within limits. So, you really need to keep track because if the diet is not controlled then no amount of exercise will control the weight." explained Rita.
Sandy remembers her first time coming to Elite Sports Club – West Brookfield. She was very intimidated by all the people and all the equipment. Thank goodness she has worked out before, just not necessarily with the focused plan of improving her workouts and her diet.
To date, Sandy and Ken Nahorski have not missed many of their 4-5 workouts per week. They have gained strength and energy throughout. They have enjoyed the constant encouragement that came from Dory, Mike, and more recently Neil, who constantly stop to offer suggestions and encouragement. She also has had a great time over the years talking to Melissa about everything and found her very enjoyable.
Since January, 2015, Sandy has seen tremendous improvements in her fitness and has lost a significant amount of weight. "You only need to talk with her or watch her in action, to figure that she is back to a post college weight." Sandy's husband, Ken, has done great as well, and in the process has eliminated any further difficulty with the medical problems that kept him awake at night.
Many people think that it is impossible to be this active and to lose weight at a "senior age." But, both Ken and Sandy Nahorski, feel that once they had their plan down, they were off and running. Both agree, "you can do this at any age, just get going."
For Ken, starting the day with fewer calories was difficult at first. "Sandy and I just plan our own breakfasts and then settle in for lunch and dinner together based on schedules and what Sandy has in mind for dinner. We have tried to get plenty of sleep and eat about the same times every day." While Sandy will workout mid-afternoon, Ken has done so after work or later in the evening.
Sandy relays that she has eliminated most of the highly spiced foods and heavier fried foods in their previous diet. Most meals are prepared "clean" or without any added fats and sugars.
"I have increased the amount of vegetables we eat throughout the day, and many meals include more fruit. I really do like the decision I made to eliminate most of the snack bags of food and desserts because we just do not have it unless we really wanted it."
According to Rita, people need to make these decisions on their own. Rarely do professionals recommend eliminating any particular food item long term. But if the client decides that is what is best for them, so be it.
"Other considerations will be amounts of foods eaten, and how individuals intend to eat after the goals are reached, as in maintenance. To date for this couple, I can only say that they have been vigilant and have not gained back a pound," said Rita.
Sadly, West Brookfield will have to say goodbye to the Nahorski's as they are leaving for one of their favorite spots on earth, Roswell, Georgia to live. One of their biggest fears is not meeting new friends, or finding just the right neighborhood, and you guessed it, replacing the club experience they had in Wisconsin. Sandy said, "No Club is going to be able to fill Elite's shoes. We just know it. Thanks for all the wellness, good conversations, and a new lease on life!"
---
Share Your Story!