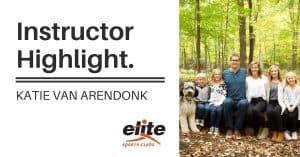 Katie Van Arendonk is a certified yoga instructor at Elite Sports Club-Brookfield. Learn about Katie's background teaching yoga in Milwaukee!
Meet Katie Van Arendonk
What classes do you currently teach?

I teach Vinyasa Flow – Wednesday mornings from 9:15-10:15 am at Elite-Brookfield.
How long have you been teaching group exercise?
I have been teaching for 11 months in the greater Milwaukee area.
What made you want to start teaching group exercise?
Yoga dovetails well with my educational training as a doctor of physical therapy, and I love that students arrive at the studio with a personal desire to simply move their bodies in a meaningful and mindful manner.
What is your favorite part about teaching your class(es)?
I enjoy the opportunity to lead students through a sequence that slowly and systematically unfolds until the "method to the madness" is evident and they are executing a new or familiar pose with greater efficiency and confidence.
What is your favorite song or style of music to teach to?
My musical preferences are rather eclectic so it's hard to choose one style of music. However, I do love the song "Hallelujah" at the end of a class during the final resting pose.
What is your favorite exercise to do in your class?
The basics! They might be considered boring, but they are the building blocks of a solid and sustainable yoga practice. And when executed well, the basics are actually quite hard!
How do you stay active outside of your own classes?
I am an avid runner. To date, I have completed 24 marathons in 23 states + Washington D.C. I have 27 more states to go before I accomplish my goal of completing a marathon in every state.
What else do you enjoy doing in your free time?
I am married and the mother of four children (ages 11, 9, 7 & 6) so a lot of my "free time" is spent with my family. We love a good outdoor adventure in and around MKE, and when feasible we enjoy traveling to new places to explore different parts of the country or visit family and friends.
What advice do you give people who are coming into your classes for the first time?
Simply do your best, and remember, it's just yoga.
What personal advice do you give someone who is looking to get to a healthier point in their life?
Simply start where you are, be consistent, and embrace the journey. Leading a healthy lifestyle is a "both-and" experience. There will be both good days and bad days . . . take them as they come and just keep showing up.
---
Have you taken a class with Katie Van Arendonk? Tell us about your experience, or perhaps your own personal health & fitness story!
Share Your Story!
SaveSaveSaveSave