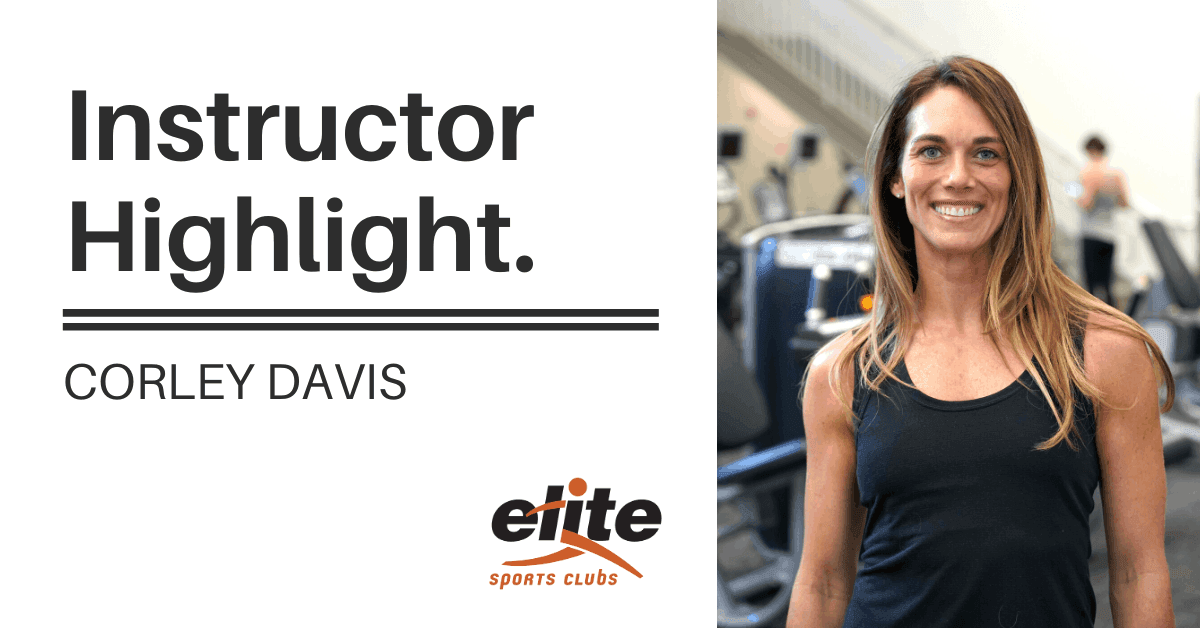 Corley Davis is one of our new group exercise instructors who teaches CS60 at Elite Sports Club-River Glen. Corley brings her unique flair to her classes, resulting in a challenging, yet very rewarding and fun experience. Learn more about Corley and what to expect from her class!
Meet Corley Davis
What classes do you currently teach?

Currently I am teaching CS60 at Elite-River Glen on Saturday mornings from 9:15-10:15. The class recently had a name change (was once called S3) and stands for "Cardio/Strength 60 Minutes."
How long have you been teaching group exercise?
My first official class was in September 2019.
What made you want to start teaching group exercise?
Honestly, it wasn't something I ever thought I would be doing. But I started going to this class years ago and fell in love with the format. Eventually, I started to help create new routines as a way to be creative, have fun, and get in an extra workout or two. From there, I was given the opportunity to substitute teach a few classes, create a few of my own routines, and I was hooked!
What is your favorite part about teaching your class(es)?
I just truly love this class! From the music, to the movement, being with friends, and seeing other people enjoy those things too….it's difficult to choose just one aspect as my "favorite."
What is your favorite song or style of music to teach to?
Anything with a good beat! Finding new music for the routines is one of my favorite things to do. A lot of time is actually spent finding the right songs, deciding if they should be in the cardio or the strength portion of class, and arranging them in a set list so they work together. For me, and because of this, each routine has its own "personality."
What is your favorite exercise to do in your class?
It sounds silly, but I genuinely like all the moves. In all honesty, I try to only incorporate exercises I think are fun. No one, including me, wants to do exercises they don't enjoy doing. A small list of favorites would include soccer shuffle, squat up-jacks, push-ups, knee-pull twists, and mountain climbers. I also love anytime I can throw in a "shimmy shake" or a "squat with feeling!"
How do you stay active outside of your own classes?
Outside of my class I do a variety of other workouts. I do small group training, personal training, and attend other classes offered throughout Elite including circuit training and another instructor's CS60 class!
What else do you enjoy doing in your free time?
In my free time, I enjoy spending time with my family. My husband and I have been married for 10 years and we have 3 kids, ages 8, 6, and 5. They keep us pretty busy with all of their individual activities. As a family, we enjoy being outside, going on small trips, and racing our vintage race car at the race track!
What advice do you give people who are coming into your classes for the first time?
Come and join us for a good time! Expect to get a good sweat, but also have fun. The routines are designed to be challenging so if you are unable to do all the moves, don't feel discouraged. Regular attendance will allow you to see the progress you're making with your strength and stamina.
What personal advice do you give someone who is looking to get to a healthier point in their life?
It's never too late to get started. When I first started, I couldn't make it through a whole routine without taking a break and it wasn't long ago that I couldn't do a single push-up. Becoming involved in the Elite Sports Clubs network and challenging myself every day have been the most motivating factors. Seeing and feeling the results of the hard work are what keep me going to do more. As a new instructor, I hope to encourage and inspire others in the same way I have been supported by other instructors at Elite. I never thought I would be leading a group exercise class, but so far this journey has been amazing and challenging and I can't wait to see what the future brings!
---
Have you taken a class with Corley Davis? Tell us about your experience, or perhaps your own personal health & fitness story!
Share Your Story!
SaveSaveSaveSave