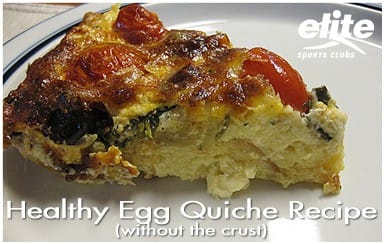 Many of today's recipes have had the calories almost cut in half by using new products on the market that are substitutes for eggs, or lower in fat. In addition, safe vegetable sprays are being used just as well as regular oils that also helps in the calorie cutting. This quiche can stand up nicely without all the added calories and will have a distinct taste! It is completely up to you whether or not you use low fat or regular shredded cheese in this recipe. Bon appetit!
Healthy Egg Quiche Recipe (without the crust)
Baking mix stands in for a prepared crust in this easy quiche recipe. And at 159 calories per serving, it's easy on the waistline too! Yield: six servings, serving size one wedge.
Ingredients:
1 cup egg substitute, or six whole eggs
1 cup skim milk
½ cup low-fat buttermilk biscuit and baking mix
1 cup plain nonfat yogurt
2 tablespoons, ½ ounce, grated fresh Parmesan cheese
½ teaspoon dry mustard
¼ teaspoon hot sauce
1 cup, 4 ounces, shredded reduced fat sharp cheddar cheese
¾ cup diced low-salt, reduced fat ham
½ cup chopped green onions
Vegetable cooking spray
Cherry tomatoes, optional
Green onion slices, optional
Preparation:
Preheat oven to 350°
Place first seven ingredients in a food processor, and process one minute until smooth.
Combine egg or egg substitute mixture, cheddar cheese, ham, and green onions in a medium bowl; stir well.
Pour mixture into 9 inch pie plate coated with cooking spray.
Bake at 350° for 40 minutes or until set. Let stand five minutes before serving.
Garnish with green onion slices and cherry tomatoes, if desired.
Nutritional Information:
Amount per serving: calories: 159, calories from fat: 30%, fat: 5.3g, saturated fat: 2.9g, monounsaturated fat: 1.6g, polyunsaturated fat: 0.2g; protein: 18.3g, carbohydrate: 9.2g; fiber: 0.2g
Looking for more healthy recipes? Follow our recipes board on Pinterest, or take it one step further and set up a consultation with our Registered Dietitian to get started on a healthy eating plan!
---
By Rita Larsen, RD, CD; Elite Sports Clubs Nutrition Educator & Diet Counselor