Weight loss is the most common goal we see in the fitness industry. Everyone has different circumstances, which all lead to different reasons for wanting to lose weight. Elite trainer Rachel Crom recently embarked on her own journey to drop weight and wants to share her story of how working at the clubs changed her life to hopefully serve as inspiration for anyone else with a similar struggle.
About Me
My name is Rachel Crom and I am a 23-year-old exercise physiology masters student at Carroll University. I graduated from the University of Wisconsin-Milwaukee in 2021 with my bachelors in kinesiology. I currently am a personal trainer here at Elite Sports Clubs.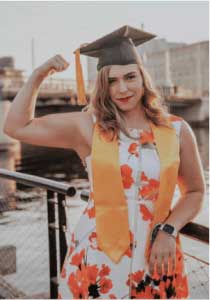 How It All Started
I was always a very active person growing up because I played competitive fast-pitch softball. For over 14 years, I lived and breathed softball. Unfortunately, my career in softball ended abruptly in 2016 when I tore my ACL, meniscus, and fractured my femur. This was life changing for me. I had to have surgery, physical therapy 5 days per week to learn how to walk again, and I could no longer play collegiate fast-pitch. Although all of those factors played a huge role in my life, the biggest effect from my injury was that I gained nearly 70lbs. Yes, 70lbs. That put me at my heaviest weight of 230lbs.
I want to start off by saying I never considered myself to be overweight – even when I really was. I always pictured myself as the active softball player until I went to the doctor one day for back pain. In my post-checkup, the reasoning for my pain was obesity. Reading that really hurt me emotionally and it sparked years of unhealthy eating. Not the unhealthy eating you're thinking of, where you'd eat a tub of ice cream in one sitting, but the unhealthy eating where I was only eating 900 calories a day. I was literally starving myself. I was tired, defeated, and I still couldn't drop the weight.
Push for Change
I always told myself as a future healthcare professional, "How am I going to tell people to live a healthy life when I am not living one myself?" This question always sat in the back of my mind and was very stressful for me. In the fall of 2020 I was given the opportunity to be an intern at Elite Sports Clubs where I was pushed to be active again and, quite honestly, this was not an easy thing to do.
Throughout my physical activity struggles, my co-workers at Elite made sure to push me to not only be the best I can be, but to learn while doing it. Within my first 2 weeks of my internship, I had dropped 10lbs. It was then that I discovered that I can do this. I hired a nutritionist, trainer, and coach and began counting my macronutrients. The weight began to shed off and I started to build a healthy relationship with fitness, eating, and most importantly, myself.
My mood changed, my stress lowered, and I could complete everyday tasks with ease. I could breathe better, walk better, lift heavier, and I was finally becoming the person I wanted to be. I built a strong relationship with physical activity and it is now one of my favorite things to do. In total, I am down 53 lbs from the start of my journey and I have never felt better.
My goal weight is only 15lbs away and one I reach it, I will begin training to compete as a powerlifter.
You Can Do It!
To the person reading this who is in their own weight loss journey: know the process isn't linear. You will have good days and bad days. Hold yourself accountable and always remind yourself that you are stronger than you seem, braver than you believe, and smarter than you think. Be patient with yourself and celebrate the small victories.
If I could tell my past self one thing, it would be that you deserve love, happiness, and everything in between. Your weight does not define your self-worth and never will. Be proud of who you are and keep pushing forward to be a healthier you.
I would have never lost the weight I did without the help of my co-workers at Elite and without my trainer. I owe them more than what words can give.
---
If your goal is weight loss or just to move better, personal trainers are a great resource to help you achieve the results you're after. If you're interested in working with Rachel Crom or any of our experienced trainers here at Elite Sports Clubs, start with a no-obligation free consultation!
Set up a Free Fitness Consultation