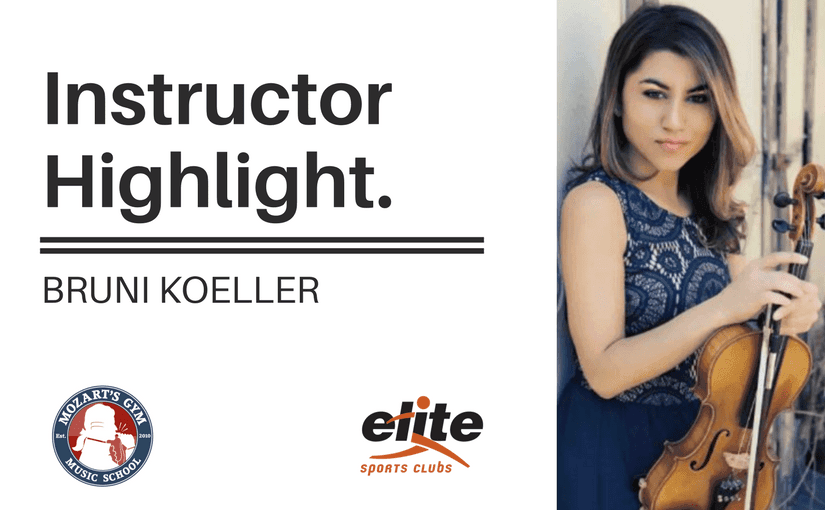 Elite Sports Clubs is now offering full-time music classes at our Brookfield & River Glen locations through Mozart's Gym: an on-site music school where there are many different teachers of many different instruments. Today we'd like to introduce Bruni Koeller, violin and viola instructor for Mozart's Gym Music School.
Meet Music Instructor – Bruni Koeller
What instruments do you teach? Violin and Viola
How long have you been teaching and what made you want to start teaching? I have been teaching private violin and viola lessons for the past five years. I began teaching because I have a passion for performing the violin and I wanted to share my love for playing with others.
What impact did your own teachers have on you in music and in life? I began studying violin at the age of 6 by an excellent teacher in Albania. She instilled in me the love for violin and taught me perseverance in my playing. It is important to remember to never give up, no matter how difficult things get.
Bruni Koeller's Teaching Style
What is your favorite song or style of music to teach? I like to teach a variety of music styles focusing on the interests of each individual student.
What is your favorite part about teaching music? I love being able to see my students make progress in their abilities in violin and viola and seeing their excitement when they perform for others.
Bruni Koeller's Advice for New Students
What advice do you give people who are coming into your lessons for the first time? I tell them music comes from the heart and that the reason why we play is to touch the hearts of others with our musical talent.
What advice do you give someone who is looking to start playing an instrument? Don't ever give up even though it seems challenging in the beginning. It takes time to learn an instrument, but once you have learned how to play it is very rewarding.
What is your greatest challenge when teaching a new student? The greatest challenge is to get students to spend time practicing. This is true of all my students. In order to improve it takes a lot of practice time.
How do you continue to encourage people to continue playing their respective instrument in a world dominated by digital music creation? I try to give my students experience in playing with others so that they develop a love for performance. Digital music creation can never replace genuine heartfelt playing of an instrument.
Bruni Koeller's Hobbies
What else do you enjoy doing in your free time? I like staying physical by working out.
---
Have you taken a music lesson with Bruni? Share it with us!
SaveSave