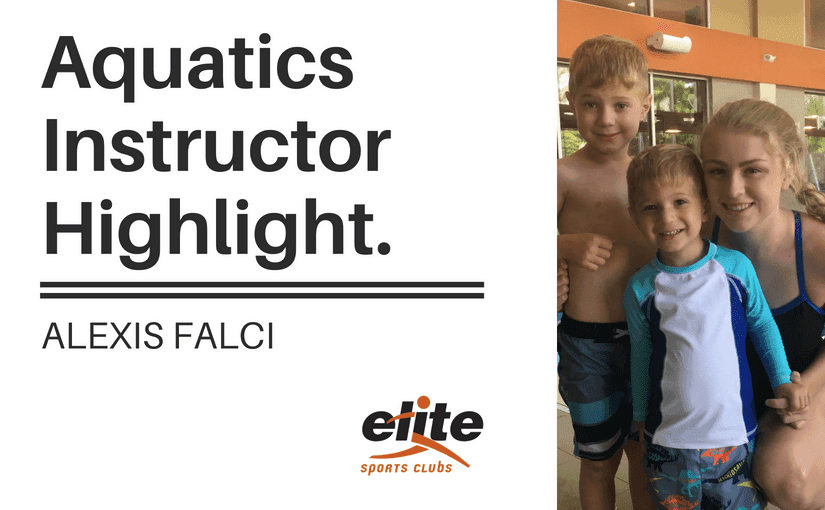 Alexis Falci is a swim instructor and Swim Club coach at Elite Sports Club – Brookfield. Alexis finds it rewarding to see her students progress with each lesson. She believes swimming is an important skill to learn because it can be used for your entire life, both for exercise and for safety. Learn more about Alexis Falci!
Meet Alexis Falci
What position(s) do you currently hold at Elite and any you have held in the past?

I'm a private, group, and SCAMP swim instructor and a Swim Club coach at Elite-Brookfield! I used to work at Elite as a lifeguard and in the playroom.
How long have you been a member/working at Elite?
I started working at Elite as a lifeguard in early 2015.
How long have you been a swimmer? Did you take swim lessons?
I started taking swim lessons when I was 3 and continued taking them up until I was about 10 or 11.
What made you want to become an aquatics instructor?
I was offered the chance to get my Water Safety Instructor certification through Elite Sports Clubs after working as a lifeguard for about a year. I took the opportunity because I knew it would be a rewarding job and I have always loved working with kids!
What is your favorite part about your job? About swimming in general?
My favorite part about teaching is seeing progress from my students. Kids get so happy when they're able to do something independently for the first time and that's what makes my job so rewarding! My favorite part about swimming is how relaxing it is and how it's a skill you can use for the rest of your life.
What activities do you participate in at the club or outside of the club besides swimming?
I like to run and work out in the fitness center. I'm also a college student so that takes up a lot of my time.
How would you encourage a parent considering putting their child in swim lessons? Or an adult considering to learn how to swim?
I think it's so important that everyone learns how to swim, at least learn basic safety skills and some strokes. It makes both the parent and child feel much more comfortable when they are around water. Swimming can be for fun but it is also great exercise, which is why I would encourage an adult to learn how to swim. It's very low stress on your body and a great alternative to regular gym workouts. Lastly, accidents can happen in the water so easily, which is why prevention is so crucial. Learning how to properly swim can reduce the risk of accident and equip someone with the ability to make the right decisions around water.
What advice would you give about the importance of learning to swim or aquatics exercise?
Swimming is a lifetime exercise. People of all ages can enjoy the health benefits swimming brings. Learning to swim can open so many doors for people to enjoy activities they otherwise would not be able to do. While it sometimes takes years to become a proficient swimmer, it is worth the time and effort because of all the benefits that come from it.
---
Have you taken a swimming lesson with Alexis? Tell us about your experience, or perhaps your own personal swimming story!
[maxbutton id="12″ ]
SaveSave
SaveSave
SaveSave
SaveSave
SaveSave
SaveSave
SaveSave
SaveSaveSaveSave
SaveSave
SaveSave
SaveSave
SaveSave
SaveSave
SaveSave
SaveSave
SaveSave
SaveSave
SaveSave
SaveSave
SaveSave
SaveSave
SaveSave
SaveSave