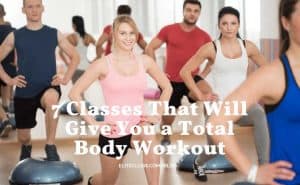 When you're crunched for time but still want to sneak in a total body workout, Elite offers several classes that will do just that. Get the most bang for your buck, so to speak, by working your whole body in 60 minutes or less.
Total Body Workout Classes
Workout 1: Barre
Barre integrates the fat burning format of interval training, the muscle shaping technique of isometrics, and the elongating principle of dance conditioning. This class will help you reshape your whole body and improve your posture. The fusion part incorporates traditional Pilates and a mix of traditional strength moves.
Workout 2: Les Mills Body Combat
Body Combat is an energetic class which is inspired by a number of different disciplines and martial arts such as karate, taekwondo, tai chi, and boxing. Body Combat focuses on upper body conditioning, toning of your arms, chest, and abdominals and includes some lower body exercises, as well as improving cardiovascular fitness.
Workout 3: Les Mills Body Pump
The Les Mills Body Pump is an exercise concept that works every major muscle group in a complete workout ideal for both men and women, and beginners through experienced exercisers. This weight workout uses barbells with adjustable weights and is set to motivating music directed by only certified Body Pump™ instructors.
Workout 4: Kickboxing
Kickboxing is a total body workout that will melt away the pounds. This class uses no-contact kick and punch combinations. It is a challenging cardiovascular workout that is fun and action packed. Bonus: it's also great for improving coordination and footwork.
Workout 5: HIIT
HIIT, or High-Intensity Interval Training, is a workout consisting of high-intensity exercises followed by short recovery. This method of exercise uses the whole body and will ensure a high heart rate as well as burning more fat in less time.
Workout 6: BTS
BTS works every major muscle group for a whole body workout. Get your body into shape with high repetition exercises using low resistance dumbbells, bands, body bars, and medicine balls. Once you've worked the whole body, things wind down with abdominals and flexibility. BTS has a 60% lower and 40% upper body split.
Workout 7: H2O Blast
If you're looking for a low impact full-body workout, the H2O Blast is the class you're looking for. This joint-friendly, shallow water workout includes calisthenics style movements using water dumbbells or noodles.  Members march, jog, and ski in the water to create resistance. These moves help improve cardiovascular fitness, muscle endurance, and flexibility.
Check out Elite's full complimentary class schedule on our website.
SaveSave
SaveSave
SaveSave
SaveSave