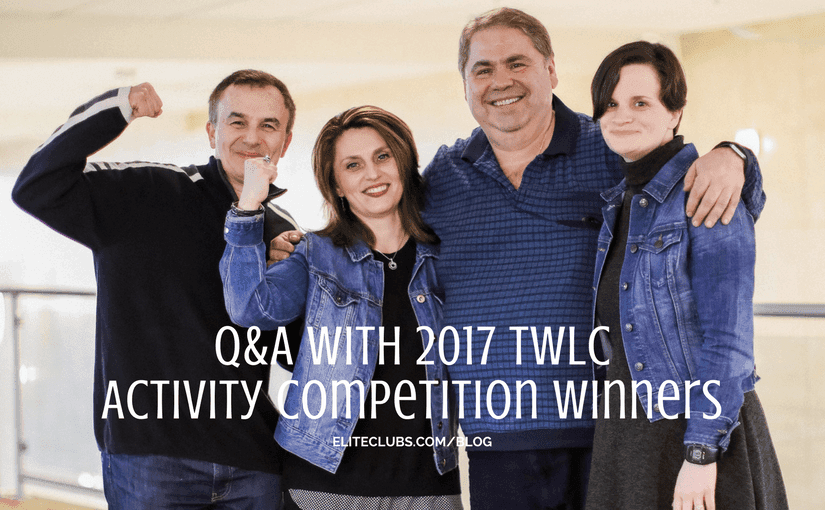 We sat down with this year's activity competition champions from The Wellness & Lifestyle Challenge. Anna, Roman, Sandra, and Carie discuss how they teamed up to win the TWLC Activity Competition.
What were your keys to success for the TWLC Activity Competition?
Anna: This is my third year participating in the challenge so I do enjoy challenges and having a coach for a motivator. Melissa Abramovich, my coach was a huge motivator by her constant emails of exercises, moral support and constant availability to meet with all of us.
Roman: My daily workouts and diet were keys to my success in this challenge.
Sandra: The keys to my success were going to classes and eating healthy.
Carie: Personally, I was working out daily prior to the challenge, so I had a good fitness base to begin with. During the challenge, I was careful to pick classes that would allow for an active recovery. I tried a lot of new classes including Weekend Warrior and beginner tennis, but made sure to incorporate Pilates, Yoga, and water aerobics.
What was your motivation throughout the TWLC Activity Competition?
Anna: My husband, Roman, was my biggest motivator since we were on the same team. We would push each other to continue to get to classes in the early hours, late at night and several times a day. Even when I was exhausted, he would say I'd feel better after a workout. We pushed each other.
Roman: My wife's relentless will to win this challenge.
Sandra: My motivation was to create a healthy lifestyle for myself.
Carie: The things that kept me motivated during the challenge was seeing members of my team on a daily basis, having a great coach, Melissa, seeing and talking to other great people participating in the challenge, and my own personal drive.
What was your biggest personal struggle during the TWLC Activity Competition?
Anna: Prior to the challenge, I tried to work out 5 days a week so I was always at Elite. During the challenge I worked out 7 days a week and even several times a day. The weekend warriors for 50 points were tough on me. The biggest struggle was pushing myself to get the Sunday class after a grueling workout week, but I did it.
Roman: Keeping up with my wife who was the leader on our team.
Sandra: Maintaining a balance between exercise, eating right and daily life commitments .
Carie: Finding enough time to take all the classes and balancing a full-time job.
What was your biggest personal success during the TWLC Activity Competition?
Anna: I enjoyed trying many different classes and attending a new club that I wouldn't have normally gone to. I tried such activities as tennis lessons and water classes. Also, the challenge and Melissa allowed me to analyze my workout schedule to see that more mind and body classes were needed.
Roman: Averaging 2 workouts a day was my biggest personal success during the challenge.
Sandra: My biggest personal success was trying new activities to reach my goals.
Carie: By the time I was done with the challenge, I had lost 15Ibs and it changed my body.
How did you support each other as a team throughout the TWLC Activity Competition?
Anna: In the mornings, when I would see Oleg in class, I would ask him, "How many points?" It was easier for me since my husband was on my team. We definitely supported each other. Carrie and Sandy also were very motivating and we talked often about classes, diet, and pushed each other. We did meet with Rita Larsen who was also a great motivator and always willing to help.
Roman: Taking similar classes and meeting with the dietitian.
Sandra: Meeting each other for classes, events at Elite, and supportive and very informative emails from Melissa, our team's coach.
Carie: I would see Sandy, Anna, and Roman on a daily basis. I would discuss with Anna and Sandy different classes I was attending.
Congratulations to the "Workout Wonders" team! You can read more about the 2017 TWLC here.
Note: Oleg was also a member of the winning team and played a role in their success, but preferred to let his teammates speak for the group in this Q&A.
SaveSave
SaveSave