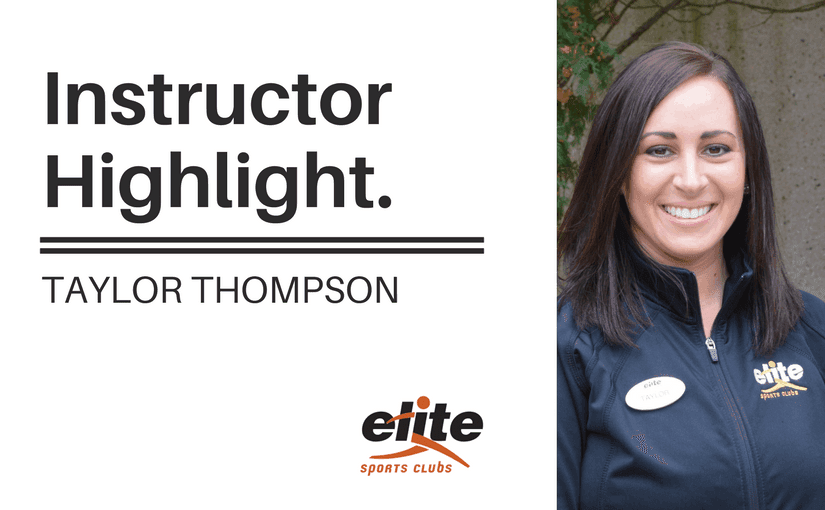 We'd love for you to meet Taylor Thompson, a group exercise instructor, nutritionist, and certified personal trainer at our Elite Sports Club – Brookfield location. Keep reading to get to know her a little better and learn how she got started in health and fitness.
Meet Taylor Thompson:
1. What classes do you currently teach?
I currently teach Dance Cardio, Kickboxing, and Sculpt
2. How long have you been teaching group exercise?
I have been teaching group exercise classes for about 3 years. I started teaching when I was a junior in college and then started at Elite in the Fall of 2016.
3. What made you want to start teaching group exercise?
I was a dancer my whole life until I went to college and I wanted to focus more on academics. So, I started going to group exercise classes to get my dance fix and absolutely loved them. I had one of the instructors approach me asking if I would like to teach my own class. It was never something I would have seen myself doing, but I am so glad I did it because it has been a great experience and has taught me a lot about myself.
4. What is your favorite part about teaching your class(es)?
My favorite part about teaching group exercise is getting people out of their fitness comfort zone. I love seeing new faces in my classes and meeting new people. I also love teaching my dance cardio classes because it brings me back to my dance days and it is such a fun and energizing class!
5. What your favorite song or style of music to teach to?
I'm all about loud, high energy music that makes class fun!
6. What is your favorite exercise to do in your class?
Any exercise that is going to get the heart rate up and keep everyone moving is my favorite type of exercise!
7. How do you stay active outside of your own classes?
Outside of the classes that I teach, I enjoy taking other group exercise classes such as pilates and cycling. I also like to participate in local running events as well as do my own workouts in the gym.
8. What else do you enjoy doing in your free time?
I love to shop, cook, and spend time with friends!
9. What advice do you give people who are coming into your classes for the first time?
Don't worry if you don't get it right away, just have fun and keep moving!
10. What personal advice do you give someone who is looking to get to a healthier point in their life?
Set goals and follow through! Change takes time and you aren't going to reach your health goals overnight. But with support and dedication, success can happen!
---
Have you taken a class with Taylor Thompson? Share your experience!
[maxbutton id="12″ ]