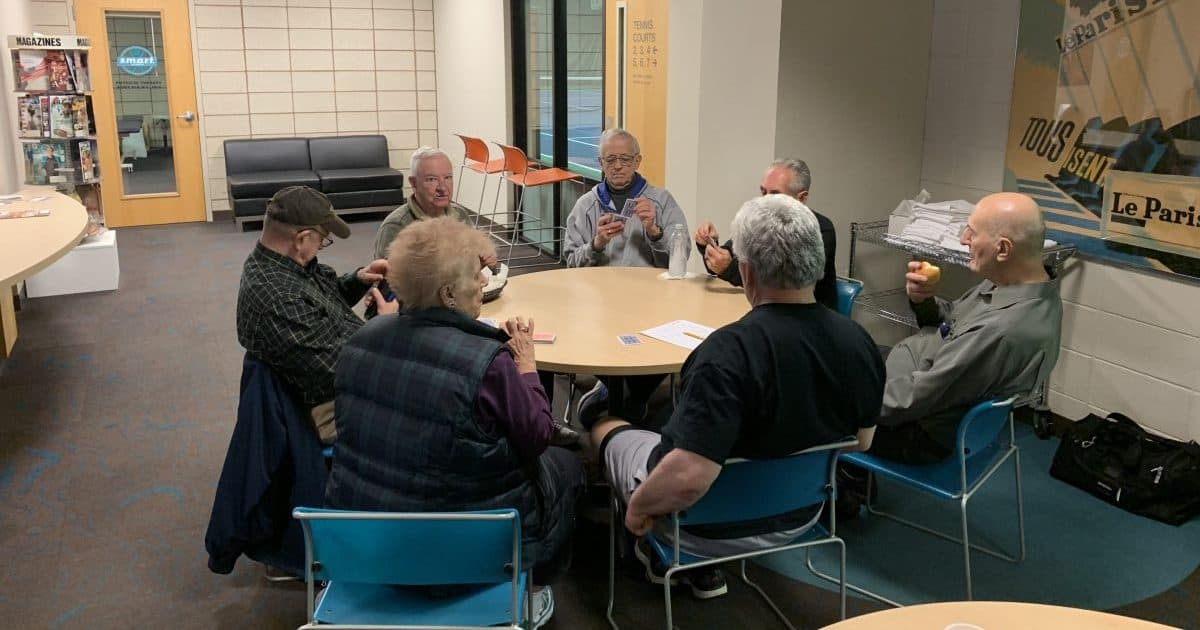 Of all the activities to enjoy at Elite Sports Clubs, you might not think playing cards would be among them. For several years, a group of Elite members gather to socialize over a friendly game of Sheepshead at our North Shore location. One of our own members helped us write about the program and how you can join in!
A Wisconsin Tradition
Wisconsin is the hub of the Card Game of Sheepshead, where immigrants brought the game from Germany in the 1800s. In fact, Sheepshead (Schafskopf – in German) has been declared as "Milwaukee's Official Card Game" by the City of Milwaukee Common Council on October 24, 1983. Sheepshead is known to be Wisconsin's "GEMUTLICHKEIT" Game, meaning "congeniality, good times, fun, friendship, and laughter."
As a sidelight – The Glendale Senior Citizens Club and the Nicolet Recreation Department, sponsor a Sheepshead Tournament in early April of each year – At Nicolet High School.
This is the Largest Sheepshead Tournament in Wisconsin, and actually – "In The World." It started in 1994 with 20 participants, coordinated by the Glendale Recreation Department. This past April 6th, 2019, there were 225 players. The Sheepshead Tournament has grown every year, both in numbers, and in prizes. Since 1999, the Nicolet Recreation Department has administered the Tournament. The Glendale Senior Citizens Club has been involved from the beginning. The Tournament is a wonderful community event, bringing people in from all over the state.
Participants play 3 rounds of 15 hands, with the person with the highest score receiving a beautiful plaque and other prizes. Food and soft drinks are also available for everyone.
The Tournament Coordinator, Dennis Staral, learned to play Sheepshead when he was 5 years old. He used to watch his mother play cards when she and Dennis' father visited with the relatives on the family farm near Kewaunee, WI. This is the game that was played regularly when relatives met. There was some visiting going on, but mostly the game of Sheepshead was played. Along with the clinking of beer bottles, you could hear words, such as: "schmeer, mauerer, kibitz, loner, table talk," etc.
As an ongoing Club Activity at Elite Club Sports, we would like to invite any and all interested members to Join The Sheepshead Group – On Mondays – At Elite-North Shore – From 1-3 PM.
Why Play Sheepshead at Elite?
It provides a social outlet for Elite members.
It's an inexpensive opportunity for the members to get together for fun.
It provides an avenue for people to meet with smaller groups to later bond and play Sheepshead.
It's an example of how Elite Sports Clubs provides "Quality of Life" for its members.
It allows Elite Sports Clubs members to be part of the Sheepshead Family – To be active participants and be able to "show off their talents."
It's an opportunity for multiple generations to bond over a single activity.
It is a low-tech, inexpensive way to have fun in a high-tech society.
It is a great billboard for Elite Sports Clubs, and enables the members of Elite Sports Clubs to partake in the event. Greg Bowler, General Manager of Elite-River Glen, as well as Judy Pink (a highly valued, long-term Employee at North Shore), have been ardent supporters of our Sheepshead Group since its inception 4 years ago.
It is an extremely successfully run program that costs nothing, but is greatly appreciated by its' members.
No registration is required to join. We invite any and all members, no matter your age or experience level!
---
Contribution by Dennis Staral – Member at Elite Sports Club-North Shore