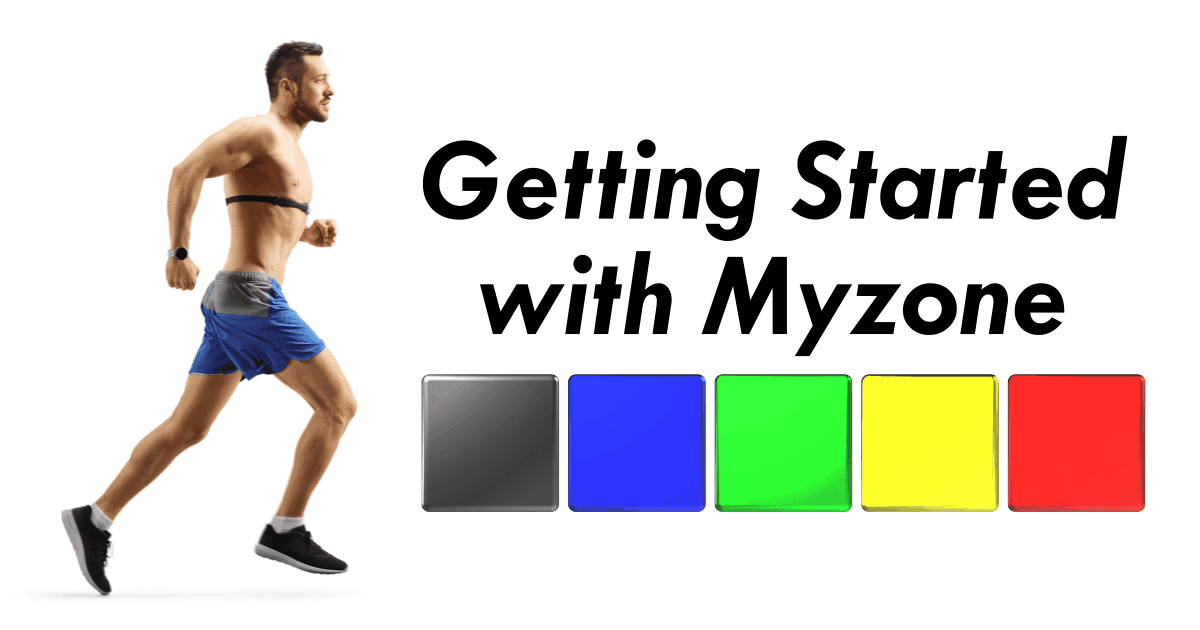 Have you noticed monitors around the clubs displaying names with a variety of colored panels and wondered what exactly is going on? We've adopted a new personal fitness tracking program called Myzone, which will help you maximize your workouts! We'll explain what Myzone is and how you can get started.
What is Myzone?
Myzone is a wearable heart rate monitor that can wirelessly connect to a phone or other device to monitor physical activity in both real-time and show progress over longer periods of time. The device itself looks like a belt that wraps around the chest. It measures heart rate, average heart rate, max heart rate, calories, and the amount of time spent exercising using five simple color-coded personalized zones. This data is converted into "Myzone Effort Points (MEPs)", with a focus on rewarding effort rather than fitness. According to Myzone, the belt has 99.4% EKG accuracy, so you can trust the results it shows.
Here are a few additional features Myzone offers:
View your effort live on your smartphone
Connect to other wearable devices
Make connections and challenge friends
Connect to cardio equipment for maximum versatility
Earn points and gain status ranking

Get workout summaries and stats via email

Belt stores up to 16 hours of activity data
How to Acquire a Belt
Elite sells the Myzone belts at a discounted price to its members. Contact one of the personal trainers from your home club to purchase a Myzone belt from Elite Sports Clubs.
Setting Up the Belt/App
As we mentioned before, you can link your Myzone belt with their mobile app to see your data in real-time. Don't worry if you're not tech-savvy. The app is really intuitive and user-friendly.
To get started, download the app from the Apple App Store or Google Play Store and follow the onscreen instructions. An access code is required for setup/registering your belt, which the trainers at Elite can provide.
Using the App
Using the Myzone app and live display allows you to see instant effort feedback, as well as engage with friends and other members. When you exercise with your Myzone belt, you can use the mobile app to see your heart rate, current zone, calories burned, percentage of maximum effort, and MEPs earned. The belt also syncs up with displays in the club so you can see how your fellow members are doing as well. This provides motivation, accountability, and a friendly level of competition to keep your effort level up. The app will record and save your workout history so you can go back and review your progress.
If you prefer to turn exercise into a game, the app provides personal challenges and the ability to compete with your friends. The social sharing features allow you to compare progress and the leaderboards will show who earns the most MEPs. It's a great way to stay motivated and sustain your physical activity.
Here's a summary of the app features:
Track your workouts over time

View your live effort – displays nickname, calories burnt, heart rate in beats per minute, MEP earnings, percentage of maximum effort

Feed

View your most recent workout data and social connections

 

Receive direct feed of social connections' recent workouts – like them and post comments to support each other

Data uploading

Your activity data uploads to the Group Display inside the club
Your workout activity is stored in the cloud so you can review it later and track your progress over time

Activity calendar

View your effort over time, as well as minute-by-minute breakdowns of your past workouts

Effort over time

Activity graph will show your MEPs for the week, month, year, as well as effort over time

Social

Stay up-to-date on how your friends are performing
Add new connections straight from the app and stay accountable
Leaderboards display who is the most active

Challenges

Enter into group challenges or start one of your own
Challenges and goal setting are the best ways to stay motivated while connecting and competing with friends in the gym, or around the world

 

Trainer integration

Provides trainers the ability to connect with you via the app to help retain your motivation

3rd party integrations

Able to integrate with many different platforms and other wearable devices, complementing the user's preferred tech
Workout data can all be shared with other systems

Body metrics

Myzone tracks your body metrics over time so you can visually see how the process of earning MEPs drives your health and fitness results.

Instruction

Select a workout and try and match your heart rate zone with the suggested zone.
Start Using Myzone today at Elite Sports Clubs
In summary, Myzone is a fun motivational tool that allows you to see data in real-time, track your progress, and hold yourself accountable via a social component. Check out this blog to read a testimonial from one of our own members about how Myzone helped keep him motivated! And read this article on how to make the most of your Myzone experience.
Talk to a personal trainer to purchase a Myzone belt today! The experts at Elite are here to help you optimize your fitness experience. Contact or visit your local Elite Sports Clubs location today to get started!