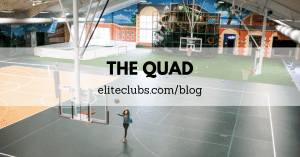 At Elite we provide a variety of programs and amenities. If you are in the Milwaukee, Glendale, Whitefish Bay, Shorewood, or Bayside area then one of Elite's most unique and non-traditional party venue is just a short drive that anyone can take advantage of is The Quad at River Glen! If you want to host a family reunion, wedding, birthday party, block party, fundraiser, or just about anything in-between, then The Quad can be your perfect venue.
The Quad is a shape-shifting, spirit-lifting, action-packed, tons of fun for everyone, multi-use activities campus!
Utilizing Elite Sports Clubs as your party venue creates social bonds, forever memories, and stress-free planning. Using The Quad, whether you're a member or non-member, as your party venue is a perfect idea because there is a lot of room, lots of games, and tons of fun for everyone. Inside you'll find:

Volleyball/Basketball/Soccer Courts

 
  
Interactive Games (Time Freak)
All of the fun activities inside The Quad would spice up any party! We want to make your party planning easier. Summer is just around the corner and that is the peak of the 'party season.' Get ahead of the game and use The Quad as your venue!
Is The Quad what you're looking for?
Do you want your party to be remembered for years to come?
Are you planning a party for over 200 people or 20 people?
Do you want stress-free party planning?
Do you need a caterer? Chairs? Tables? Bar service? Easy in and out access for rental equipment?
Do you have specific needs that not every banquet hall can provide?
Each club is flexible and creative, depending on your needs. We can create challenge courses, banquet halls, dance floors, and anything else you may need to host a successful event. If you are unable to staff your event, we are more than happy to provide our own Elite employees for your service and assistance.
Invite your friends and family to play in our 30,000 sq ft indoor playground at our River Glen location. Serving up challenges, games in basketball, soccer, dodgeball, kickball, bowling, space maze, Balladium, Time Freak, an Arcade, and more!
1½ hours: $275 for members, $325 for non-members

Ages 4 & under
Includes party host, private party room & all party amenities
14 kids & 6 adults, $8 each additional person

2 hours: $325 for members, $375 for non-members

Ages 5+
Includes party host, private party room & all party amenities
14 kids & 6 adults, $8 each additional person

2 hours: $325 for members, $375 for non-members

Ages 5+
"No Frills" Includes party host & private party room only
20 kids & 6 adults, $5 each additional person
Rental agreements are available by the hour, or by the space. Just let us know what you are looking for, and we will make it happen! Rates vary by length of the event and staffing needs. We can also customize your event with tables, chairs, food, beverages, and additional add-ons.
Elite Sports Clubs creates a sense of community and belonging paired with top-class facilities. That is why The Quad is pivotal to Elite because our goal is to bring family and friends together.
When hosting a party in The Quad, the Elite staff will be there to help you every step of the way. All you need to do is inquire here!