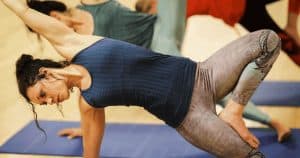 It's the holiday season and that means an endless list of chores and hopping around to stores and parties. You're stressed from all the shopping, cooking, and gift wrapping over the last several weeks, but you just want to relax and unwind. Here are 4 yoga classes where you can calm your body and mind.
Exercise isn't just good for your body, it's also great for your mind. Numerous studies and surveys show that physical activity relieves stress and helps those who suffer from depression. Yoga in particular, depending on the type, is usually conducted in a soothing environment. Asanas (body postures) and breathing techniques are used to exercise the body and relax the mind. These yoga classes at Elite Sports Clubs will help you improve your balance and flexibility, but more importantly relieve holiday stress.
Gentle Yoga
Are you new to yoga but would like to give it a try? Gentle yoga is a great class for beginners or anyone that wants a very calming practice. This class features deeply relaxing yoga with the assistance of props to support the body in releasing stress, tension, and support of the body. Anyone can benefit from this practice, which helps to increase range of motion and develop inner awareness. Emphasis is on deep relaxation throughout the class, great for anyone who wants to slow down.
Gentle Yoga is available at Elite Sports Club-Brookfield, West Brookfield, and River Glen
Hot Yoga
When you think of unwinding, you probably think of rest and relaxation. Yoga can certainly be relaxing, but it can also be intense. Hot yoga is performed under hot and humid conditions, which results in a good deal of sweating. So why on earth would you want to participate in such a harsh form of exercise if you're looking to unwind?
Hot yoga practice varies from instructor to instructor. You might have heard of Bikram yoga before, which is a specific type of hot yoga that follows a set series of 26 poses and 2 breathing exercises that last about 90 minutes. Bikram yoga is typically quieter, more serious, and much hotter (105° F). The general term 'hot yoga' typically just refers to yoga practiced in warmer conditions – typically 80-100° F.
No matter what type of hot yoga you practice, they all aim to relax the mind and improve physical fitness. Most importantly, being in a hot yoga class takes you away from your stressful holiday chores. The heat allows for a greater range of motion so you can more easily improve your flexibility. Hot yoga also burns more calories than a traditional yoga workout. Because you sweat so much in hot yoga, you improve your circulation, and your body will deliver nutrient-rich blood cells to the skin, which nourishes it from the inside.
If you prefer a more challenging workout, give hot yoga a try. Be sure to drink plenty of water before class and consult your doctor if you are pregnant. Hot Yoga is offered at all Elite Sports Clubs locations.
Hatha Yoga
When you think of yoga, you probably are thinking of Hatha Yoga. It's actually an umbrella term for yoga, but it is often used to differentiate from other specific styles of yoga.
The Hatha Yoga classes at Elite Sports Clubs unite the body, mind, and breath while strengthening muscles, increasing flexibility and stamina, developing proper body alignment, improving concentration and increasing energy.
The pace of Hatha Yoga is generally much slower, and the poses are held longer. Because it's very soothing, it's a great option for anyone looking to relieve some stress. It might not get your heart pumping like a vinyasa flow, but it's still a great strength workout.
Hatha Yoga is offered at Elite Sports Club-Brookfield, Mequon, North Shore, and West Brookfield.
Vinyasa Yoga
If you prefer flowing asanas, Vinyasa Yoga is for you. Vinyasa Yoga is similar to Hatha Yoga in that it uses similar poses, but it is much more fluid. It's also a lot faster-paced and will likely get your heart rate up.
One of our most popular group exercise classes, Vinyasa Yoga features an energetic, creative, full-spectrum vinyasa flow designed to build strength, stamina, and balance. The objective is to synchronize the pacing of breath with the dynamic flow of poses to create a more balancing effect.
Much like Hot Yoga, Vinyasa Yoga is intended to be intense. As a form of stress relief, you can sweat out all your holiday frustrations in this fun, yet challenging yoga class.
Vinyasa Yoga is offered at all Elite Sports Clubs locations.
Yoga Class Schedules
Find your next yoga class on your local Elite Sports Clubs class schedule:
What is your favorite yoga class or yoga instructor at Elite? Let us know in the comments section!