If you are parents of young children, you might be wondering when you should start your child in swim lessons. Teaching them water safety is of utmost importance, but at the same time, you want to build their confidence around water. We've created a plan for when you should begin child swim lessons.
What is the Ideal Age for Swim Lessons?
So when should you start your children in swim lessons? My answer to this question is simple: the earlier you introduce your child to the water, the better! The American Academy of Pediatrics recommends starting formal lessons at age 4 because they are "developmentally ready" to start. However, bringing your baby into the pool even as a newborn will always be easier on the child as they get older.
Many of the kids I work with (or see in general), have a much harder time getting over their fears of being in a pool or any open water if they weren't introduced to it at an early age. Some of the biggest fears I see in my 3-year-old age group are putting their face underwater, jumping into the pool, floating on their back, and not being held onto the whole time. If swimming with me is their first time being in the water for a long period of time, these fears are harder to break (but we try to make it fun by playing pool games). The kids that I work with who have played in water before and have had a positive experience with it have less hesitancy when it comes to these activities.
Join Your Baby in the Water
Infant swim programs are gaining popularity everywhere. Not only is it great for the child, but it is a way for parents and their babies to bond. One of the biggest benefits of infant swim programs is to teach your child to enjoy being in the water. It connects a positive experience between the child and the pool. It also teaches parents and kids how to be safe around water. However, please know that these types of programs may not decrease your child's risk of drowning. Adult supervision is highly recommended.
Learning Swim Techniques
If you have young children that didn't start right away, don't worry. Although starting swimming at an early age helps them be more confident in the water, becoming stronger and faster may not happen until around age 4. Those early years are for getting kids comfortable and building confidence so that as they get a little older, they are ready to start learning strokes and build endurance to swim longer distances. This is why our swim instructors have unique classes for various swim levels. Swimming is a life skill that I believe everyone should know, and I think it is important that children learn for safety and social purposes. As your child grows, they may become more skilled or interested in swim techniques. Swim club becomes a possible next step for them to continue to grow these skills.
Start Swim Lessons Early!
For many parents, water safety is extremely important. Whether you have your child in group lessons or private lessons, it is our biggest priority to teach children those skills. We want to push kids to overcome their fears but we also want them to know their limits. In my opinion, the bottom line is to introduce your kids to water at the earliest age you can and get them in swim lessons around age 3 or 4. Keep them safe and having fun in the water all at the same time!
Swim Lessons at Elite Sports Clubs
Elite Sports Clubs has a wide variety of aquatics offerings. For more information and registration for our next session of group swim lessons, visit our swim lessons website or check out our swim lessons FAQ page. Contact the experts at Elite Sports Clubs with any additional questions you may have today!
Sign Up for Swim Lessons!
---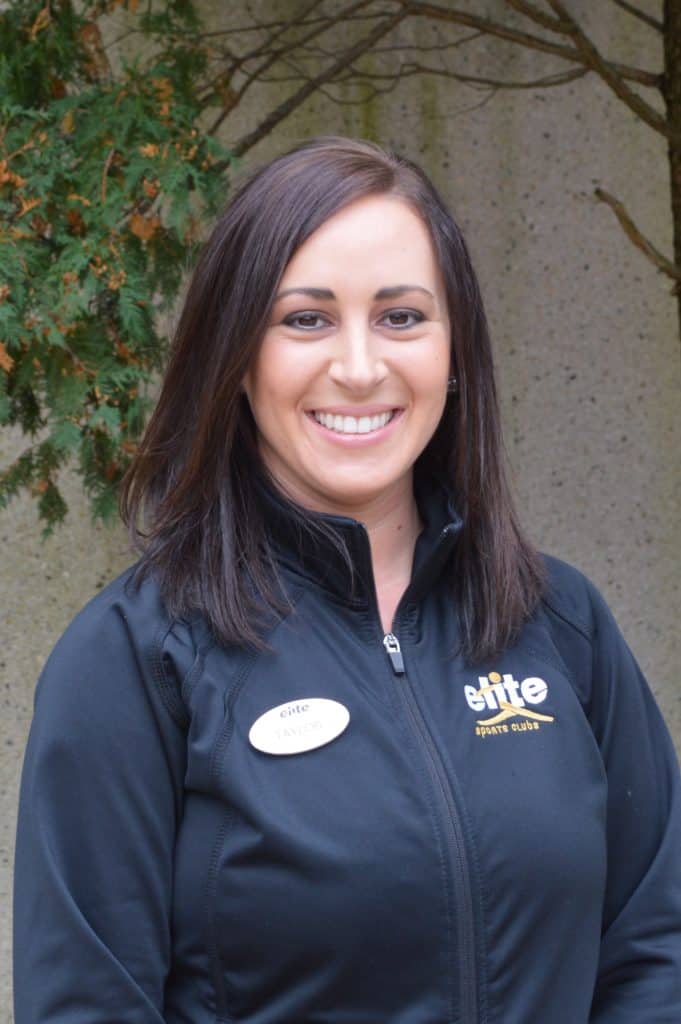 Written by Taylor Thompson, Certified Personal Trainer & Nutritionist at Elite Sports Club – Brookfield
Taylor has a B.S. in Dietetics from UW-Stevens Point and is an American Council of Exercise (ACE) Certified Personal Trainer (CPT) and Certified Zumba Instructor. She specializes in Nutrition & Weight Loss, Youth Training, Strength Training, and Kickboxing. Taylor enjoys dancing, traveling, cooking, and spending time with friends. She believes that you have to love yourself enough that you are willing to make changes and push yourself outside your comfort zone where big results can be achieved.