Knowing how to swim is an essential safety skill for all ages. Besides that, it's fun! Teaching a child to swim opens the door to one of the most enjoyable forms of recreation and fitness. Elite's group swim lessons offer many benefits that you won't find other places.
Benefits of Elite's Group Swim Lessons
1. Certified, year-round instructors
All of our instructors are either American Red Cross or YMCA certified. This means they have taken 35+ hours of education teaching them how to break down swimming skills, teach swimming skills, organize classes, and work with varying needs among children and adults. Members will get a vastly different experience from being taught by someone who is simply a lifeguard or competitive swimmer or from being taught by someone who was trained "on the job." Also, most of our instructors teach lessons year-round, so they have many more hours of experience than instructors at facilities where the staff only works through the summer.
2. Experienced adult instructors
Most of our teaching staff are adults with over ten years of teaching experience. We've seen just about every type of child and swimmer there is, and can work with any individual needs your child may have.
3. Nationally recognized, gold standard swim curriculum
Our group swim lessons follow the American Red Cross curriculum. You can rest assured knowing your child is being taught according to the most recent research Learn to Swim guidelines. This includes a "safety swimming first" mindset when teaching skills, versus just "learning strokes." Our group lessons are progressive, meaning each one builds on the skills from the previous one. Your child will move up the curriculum as he masters the skills at each level.
4. Small class sizes
Some facilities have classes of 10 or more students.  Our small class sizes allow for more swim time per student, greater safety, and more differentiation for individual students' needs.  Levels 1 and 2 have a 4:1 ratio, level 3 is 6:1, and level 4 is 8:1.
5. Warm, saltwater pools
One of the biggest barriers of getting children to enjoy their swimming lessons is being cold. Our 88-92 degree warm water pools keep kids comfortable so they can focus on learning to swim. Our saltwater systems are gentler on skin and hair and don't leave swimmers feeling as itchy afterward. They also make suits last longer, don't cause "eye sting" or chlorine smell, are more cost-effective and environmentally friendly, and produce less fluctuation in water quality.
6. Ability for parents to multitask/one-stop shop
Parents can work out while their child is in lessons. Siblings can be in the playroom or eZone. Children can schedule two activities back to back (tennis lesson followed by a swim lesson) so there is less running around for parents. At many other swim facilities, all the rest of the family will be able to do is sit and watch.
7. Group lessons for the appropriate age and ability
For our group lessons, parents are in the water with their children until age 3. We have found that it is much safer and the children learn and listen better if they aren't in a group setting without a parent until at least age 3 (private lessons can also be done from ages 6 months and up.) After that, our group lessons are ability-based, rather than age-based, so when your child is ready to move on, he will be moved into the appropriate class for their skill level. Swim tests are available prior to each session, so that you will know what level to enroll your child in.
8. Open pool time to practice
We have over 65 hours of open family swim time a week at each of our pool clubs, versus going to a lesson-only facility or a summer-only facility where open swim time is limited. If you're investing the time and money into lessons, you should have an opportunity for your child to practice what they have learned.
9. Indoor pools in the summer
Our summer lesson schedule is not dependent on the weather, as our summer lessons are held indoors. Your lessons won't be cancelled because of the unfortunate storm, and your children will always be warm.
10. Swim Club after completing Learn to Swim
Your swimming isn't necessarily over when you've completed our lesson curriculum. Our Swim Club is a great step between swim lessons and joining a more competitive swim team. The school-year club meets once a week and has a quarterly intra-club meet. The summer club offers 12 different practices per week at our three Splash clubs, and 5-6 low-key, casual meets throughout the summer.
11. Our swim lessons are a member-only benefit
The other children in your class will be from member families just like yours, leading to a more comfortable and engaging experience. There is also less rush to sign up to "get a spot."
---
Swimming lessons should be a part of every young child's life. Parents should make it a priority to have at least 8-12 weeks of progressive swimming lessons each year. Teaching kids to swim is not easy, but it's vitally important for their own safety and for parents' peace of mind.
For more information and to register for our next session of group swim lessons, go to www.eliteclubs.com/aquatics or check out our FAQ page.
Sign Up for Swim Lessons!
---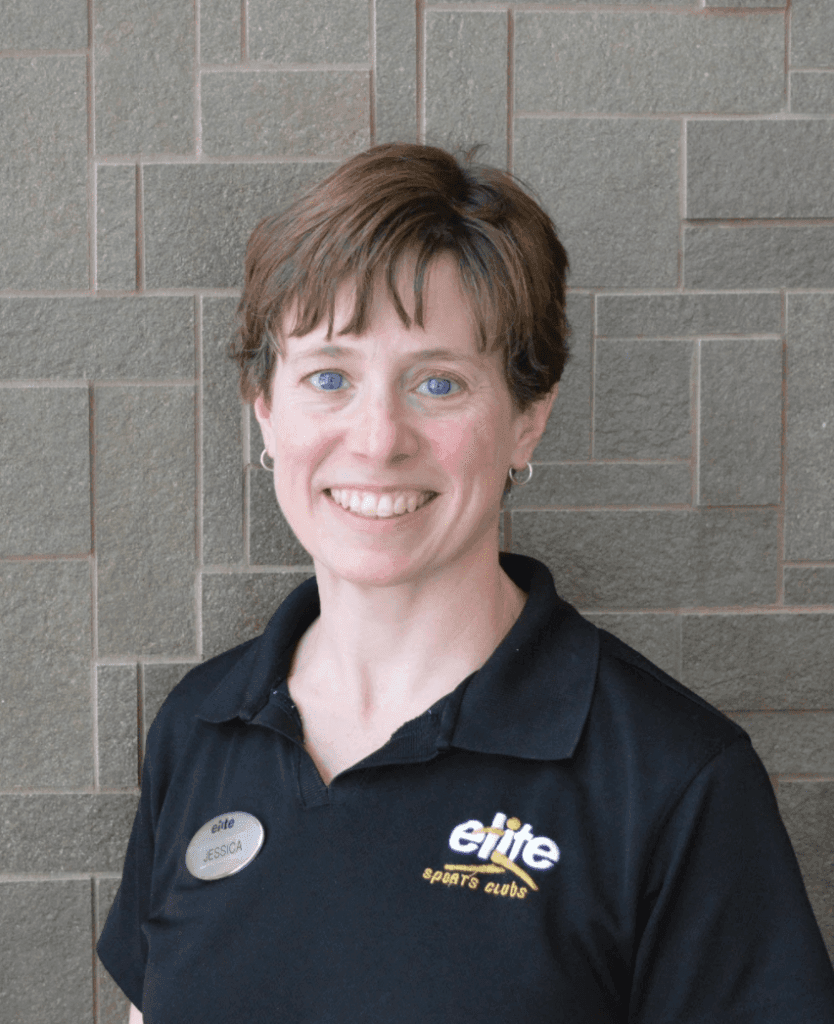 Written by Jessica Heller, Aquatics Director at Elite Sports Club-Mequon
Jessica Heller has a B.S. in Biological Sciences, minor in Spanish (UW-Milwaukee, 1999), Doctor of Chiropractic (Northwestern Health Sciences University, 2002), and post-graduate continuing education focused mostly on rehabilitative exercise, sports injuries, and nutrition. She is a certified Water Safety Instructor (since 1996), Lifeguard/CPR/First Aid Instructor (since 2010), Red Cross Babysitting Instructor (since 2015), Certified Pool Operator (since 2013), Certified Strength and Conditioning Specialist (since 2006), Aquatic Exercise Association Aquatic Fitness Professional (since 2008), and Arthritis Foundation Aquatics Program Instructor (since 2011).
SaveSave
SaveSave
SaveSave
SaveSaveSaveSave
SaveSave