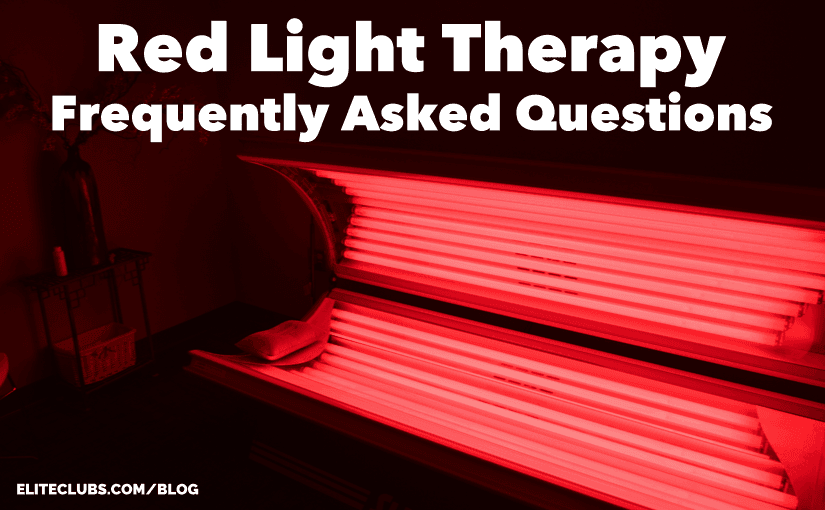 RED LIGHT THERAPY is at Elite Sports Clubs! A safe, all natural process that encourages your body to naturally produce enzymes, elastin fibers and collagen that support the skin's structure. Thus producing younger, smoother and firmer feeling skin. Here are some common questions that our members often ask about Red Light Therapy:
Q: Can I wear makeup in the Red Light Therapy bed?
A: Yes, makeup can be worn and should not affect the performance of the therapy.
Q: Can I wear my clothes in the Red Light Therapy bed or should I be nude?
A: The skin that you wish to be treated should be fully exposed to the light.
Q: Will the treatment interfere with or be affected by any medications I use?
A: If you use medications such as Tetracycline, Digoxin (used for heart irregularities) and photosensitizing drugs (e.g., tranquilizers, sulfa drugs, oral anti-diabetic drugs, antidepressants, and steroids), please consult your physician before using Red Light.
Q: Are there any special lotions I am supposed to use during or after treatment?
A: No.
Q: Will Red Light help with Seasonal Affective Disorder (SAD)?
A: Red Light, as well as other light therapies, has been proven to improve Seasonal Affective Disorder (SAD).
Q: How warm does the Red Light Therapy bed get?
A: The feeling of the heat has been compared to a nice warm 80-degree day (not actual temperature of room). We do provide a fan for use in the room to keep you at a comfortable temperature.
Q: How long after the previous user do I have to wait to use the Red Light bed?
A: We tend to schedule 30 minutes between appointments so that we can allow the bed can cool down (not required) for the next user's comfort.
Q: Is it okay to wear contacts while in the Red Light bed?
A: That depends on the individual, some people may experience a dry eye sensation.
Q: Do I need to wear some sort of eye protection (similar to tanning goggles)?
A: It is not required that you wear eye protection, nevertheless the lights are very bright and may be uncomfortable for some individuals with sensitivities to light.
Q: Is Red Light Therapy similar to tanning?
A: No not at all. You will not get a tan from Red Light Therapy, nor does it expose you to damaging UV rays.
Q: Will I have to do this indefinitely to maintain results?
A: Yes, it is recommended to start with a commitment of 20 minutes 3-5 times per week for the first 1-4 weeks, then 2-3 times per week for the following 4-12 weeks, and finally 1-2 times per week to maintain results.
Red Light Therapy dramatically reduces wrinkles & fine lines, eliminates stretch marks in most clients, and relieves joint pain & increases circulation!
Red Light Therapy is free for Elite Sports Clubs members!
We hope that the above frequently asked questions and answers about Red Light Therapy will be helpful to your experience with the treatment. In addition we have provided a video (below) on how to use Red Light Therapy at our Elite Sports Club-North Shore location. Each of our clubs' beds & protocols (available at all clubs) may vary slightly, however, are for the most part similar.
Elite Sports Clubs' Member Services Representative, Vicky Nelson Explains How to Use Red Light Therapy
Have you tried Red Light Therapy yet? What results have you seen so far? Do you have any more questions that were not covered above?