Many beginner swimmers set out with a goal of swimming a half mile or a mile straight through. I cringe when I hear that—it's not really the best way to do a swim workout. If you were lifting weights, you would do 3 sets of 10 repetitions of a biceps curl, instead of 30 straight repetitions, right? The same goes for swimming.
Swim workouts are generally written in "sets" of yards or meters, depending on the pool you are working out in. Workouts are broken into sub-groups, to focus on different aspects of your fitness and swimming.
Good swim workouts usually have this general setup:
Warm Up:
Purpose: to prepare the muscles to exert themselves.
Percentage of total distance: 10-20%
Exertion: similar to a slow walk
Drill Set:
Purpose: reinforcement of one or more aspects of a stroke so that proper form
becomes ingrained action
Percentage of total distance: 5-7%
Exertion: medium
Kick Set (legs only):
Purpose: leg strength
Percentage of total distance: 10%
Exertion: depends on the set
Pull Set (arms only):
Purpose: shoulder work, upper body technique
Percentage of total distance: 20%
Exertion: depends on the set
Main Set:
Purpose: cardiovascular/strength/power
Percentage of total distance: 35-45%
Exertion: depends on the nature of the training that day
Speed Set:
Purpose: maintenance of power
Percentage of total distance: 5-10%
Exertion: all out
Cool-Down:
Purpose: allow the heart rate to slow down gradually, allow the shoulders to
stretch, avoid pooling of blood
Percentage of total distance: 10%
Exertion: similar to a very slow walk
Here are a few sample sets:
3 x 100 freestyle on 2:00
Do not "do the math" and swim 300 yards straight through. That will not accomplish the purpose of the set. This set means that you have two minutes to swim 100 yards using freestyle stroke. That two minutes includes your rest time, so the faster you get it done, the more rest you get. After that two minute time period, start another 100 yards. Repeat 3 times.
4 x 50 choice of stroke, with :15 rest
This would mean that you swim 50 yards with whatever stroke you want, then rest 15 seconds and start again, for a total of 4 times. Again, do not do the math and swim 200 yards straight through.
Below is an example of an entire workout:

Swim workouts can be found online, in books, or by working with a swim instructor or coach. If you follow these guidelines for doing a swim workout, your fitness will increase faster, you'll have less boredom, and you will feel a greater sense of accomplishment.
---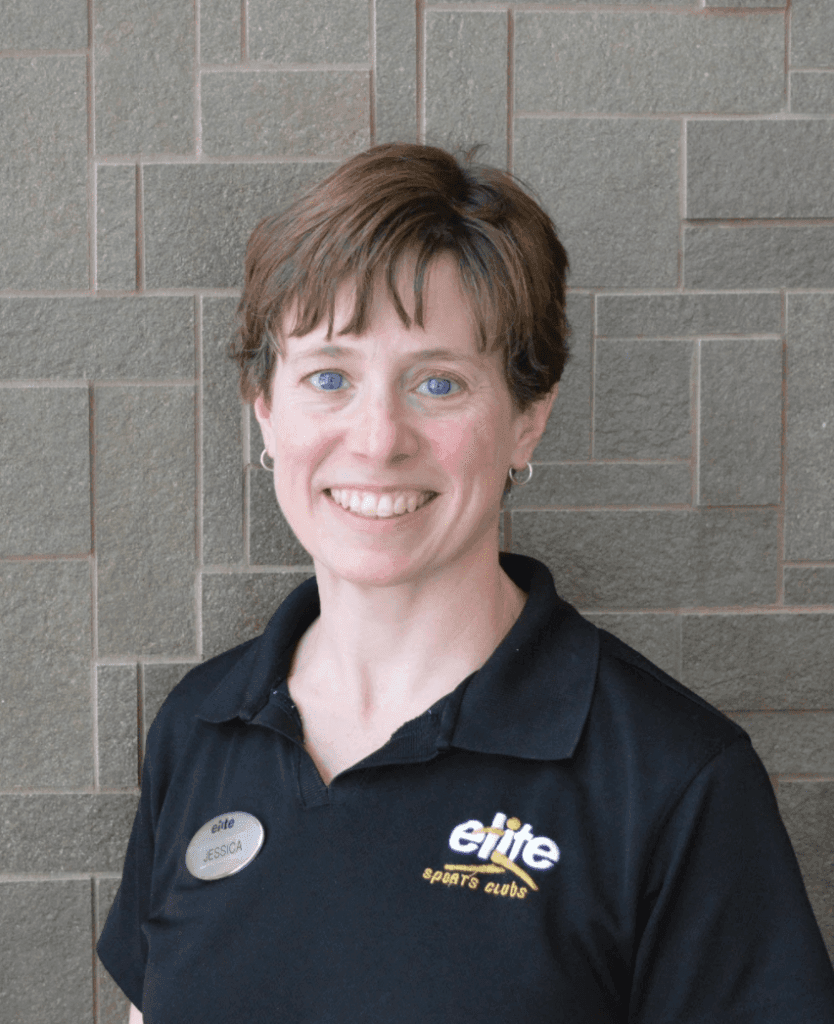 Written by Jessica Heller, Aquatics Director at Elite Sports Club-Mequon
Jessica Heller has a B.S. in Biological Sciences, minor in Spanish (UW-Milwaukee, 1999), Doctor of Chiropractic (Northwestern Health Sciences University, 2002), and post-graduate continuing education focused mostly on rehabilitative exercise, sports injuries, and nutrition. She is a certified Water Safety Instructor (since 1996), Lifeguard/CPR/First Aid Instructor (since 2010), Red Cross Babysitting Instructor (since 2015), Certified Pool Operator (since 2013), Certified Strength and Conditioning Specialist (since 2006), Aquatic Exercise Association Aquatic Fitness Professional (since 2008), and Arthritis Foundation Aquatics Program Instructor (since 2011).