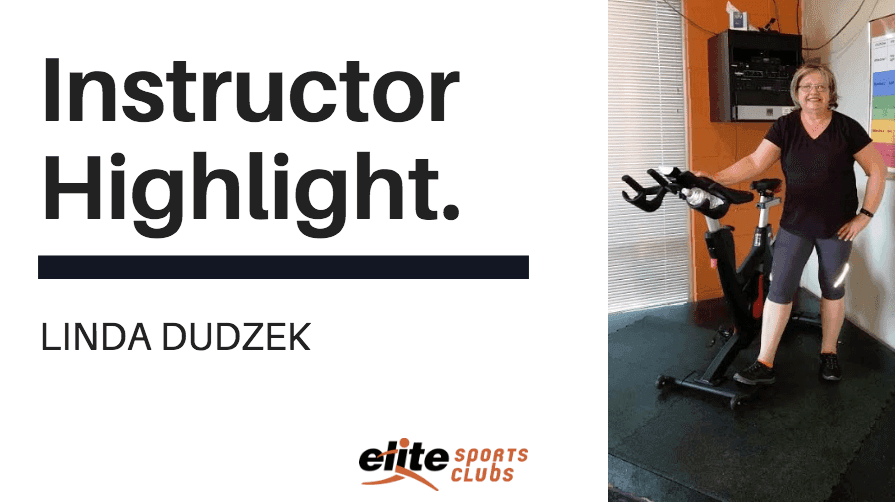 Linda Dudzek is one of our cycling group exercise class instructors at our Elite Sports Club – West Brookfield location. Over the past 9 years she has gone from member to employee of Elite. Find out what motivates her and her favorite part of teaching group exercise.
Meet Linda Dudzek:
1. What classes do you currently teach?
Currently I teach cycle class.
2. How long have you been teaching group exercise?
I have been teaching for about 2 1/2 years.
3. What made you want to start teaching group exercise?
I love cycle classes and wanted to share my love with others.
4. What is your favorite part about teaching your class(es)?
Watching members enjoy the experience, it is such a pleasure to watch others work hard and achieve their workout goals. A good cycle class can be a huge calorie burn—members have told me that they achieve their goals and more; that makes me smile.
5. What's your favorite song or style of music to teach to?
My classes are a good mix of music, I try to find artists that aren't so common to provide a different experience in class.
6. What is your favorite exercise to do in your class?
My favorite exercise would have to be a good standing run. It pushes the rider a little harder and gets the heart going.
7. How do you stay active outside of your own classes?
I attend other cycle classes as well as BodyPump. I can found many days running on an elliptical and working out on the TRX straps.
8. What else do you enjoy doing in your free time?
I just recently retired and have gotten back to one of my passions of reading. I have been finishing a new book every week. Spending time with my friends and family. Also enjoy traveling and seeing the world. This year I spent some time in Central Europe, and will be visiting Spain and Portugal later this year.
9. What advice do you give people who are coming into your classes for the first time?
Don't be afraid. Many people are afraid of a cycle class. I tell them to go at your own pace and enjoy the ride. With the new IC7 bikes at West Brookfield, each rider gets a ride based on their personal information. It's the best way to do it.
10. What personal advice do you give someone who is looking to get to a healthier point in their life?
It's never too late to start, just start moving, whether it's a cycle, Zumba or pump class. Joining a club like Elite is the best, I find the Elite experience to be awesome. Exercise in a very friendly environment. I joined Elite 9 years ago and have moved from member to employee. Love it here.
---
Are you a fan of Linda Dudzek and her classes? Tell us about your experience!
Share Your Story!