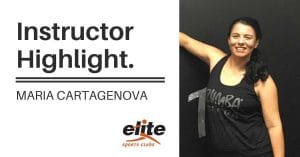 Maria Cartagenova is a certified Zumba instructor at Elite Sports Clubs. Learn more about Maria and how you can get more involved in Zumba classes in Milwaukee!
Meet Maria Cartagenova
What classes do you currently teach?

I teach Aqua Zumba on Saturdays from 8:45-9:30 am at Elite-Brookfield, and on Thursdays from 9:45-10:45 am and on Sundays from 9:30-10:15 am at Elite-River Glen. I also teach traditional Zumba on Thursdays from 9:45-10:45 am at Elite-North Shore.
How long have you been teaching group exercise?
I have been teaching exercise classes for over 13 years.
What made you want to start teaching group exercise?
Seeing my instructors enjoyed teaching made me want to do it. It is fun to work out with a group. Teaching makes me happy and healthy.
What is your favorite part about teaching your class(es)?
To see the group happy moving and enjoying the music.
What is your favorite song or style of music to teach to?
We frequently dance to Latin music in Zumba.
What is your favorite exercise to do in your class?
I very much enjoy doing squats.
How do you stay active outside of your own classes?
I exercise with a personal trainer as well as go for walks.
What else do you enjoy doing in your free time?
I love cooking.
What advice do you give people who are coming into your classes for the first time?
Work on your own pace and have fun.
What personal advice do you give someone who is looking to get to a healthier point in their life?
I will say look for a workout that brings you joy. If you enjoy what you are doing, it will be easier to do it.
---
Have you taken a class with Maria Cartagenova? Tell us about your experience, or perhaps your own personal health & fitness story!
Share Your Story!
SaveSaveSaveSave