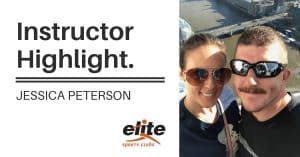 Jessica Peterson recently joined Elite's incredible team of certified group exercise instructors. Because she enjoyed BodyPump so much as a participant, she decided to bring her passion for the class as an instructor at Elite! Get to know a little bit more about Jessica here.
Meet Jessica Peterson
What classes do you currently teach?

I teach Les Mills BodyPump every Monday at 9:15am at Elite-Mequon.
How long have you been teaching group exercise?
I started teaching group exercise in October 2019.
What made you want to start teaching group exercise?
I fell in love with BodyPump as a participant and wanted to share the Les Mills love.
What is your favorite part about teaching your class(es)?
I love the whole group dynamic. The energy the group brings to class helps energize me as an instructor.
What is your favorite song or style of music to teach to?
I love anything that has a good beat. Upbeat songs are fun and they make it easy to move along with the rhythm.
What is your favorite exercise to do in your class?
I can't choose a favorite. There are so many great moves in BodyPump that it's too difficult to choose just one!
How do you stay active outside of your own classes?
I participate in other group classes at Elite, namely boxing & boot camp.
What else do you enjoy doing in your free time?
I love to read in my spare time. There's nothing like getting lost in a good book!
What advice do you give people who are coming into your classes for the first time?
Utilize the Les Mills SmartStart program. It encourages you to start slowly and then build because BodyPump can be intimidating for first-timers. Try at least 4 tracks, come back again and add another track, then another. Keep adding a track until you're at the full 10 tracks.
What personal advice do you give someone who is looking to get to a healthier point in their life?
Small steps make a huge difference! Pick one tiny thing to change each month, stick with that, then pick another thing the next month. Before you know it, you'll have met your long-term goals.
---
Have you taken a class with Jessica Peterson? Tell us about your experience, or perhaps your own personal health & fitness story!
Share Your Story!
SaveSaveSaveSave