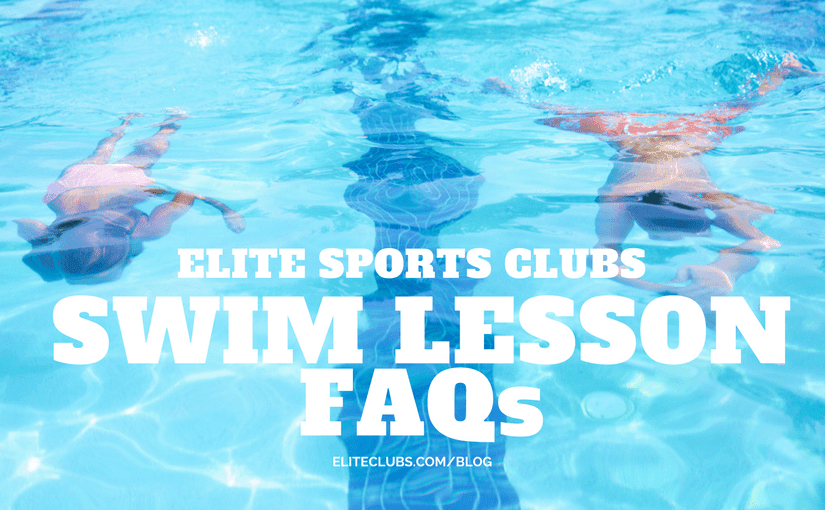 Elite Sports Clubs offers a variety of swim lessons for all ages, which are available to members only. Our swim program offers parent-child classes as well as group levels 1-4 where beginners start by learning breath control, safety skills, and the crawl; to our more advanced classes where they practice lap swimming with flip turns and refine all the strokes. Adult lessons are also available from "I want to learn how to swim" to refining your strokes. Before registering your child, you may want to check out these Elite Swim Lesson FAQs.
Elite Swim Lesson FAQs:
When can my child start lessons?
For group lessons, we offer Parent-Child classes for children ages 6 months-3 years of age. At 3 years old, they can start in our non-parent- assisted group lessons in the Seahorses level 1 class.
We offer private and semi-private lessons without a parent for ages 6 months and up.
Can my child wear goggles in lessons?
We highly suggest that level 1 and 2 students learn to swim without goggles so that if they would be in trouble in the water somewhere, they are not relying on having goggles on to be able to swim. Levels 3 and up may use goggles in classes, as they will be expected to swim with their eyes in the water longer than at the lower levels.
If your child will be wearing goggles, you need to make sure they fit properly and that your child is used to wearing them (they should feel tight to work properly.) Our swim instructors will not use valuable lesson time adjusting goggles.
Do I have to stay around the pool during my child's lesson?
You are free to workout or use other areas of the club during your child's lesson. However, if your child may need help using the restroom or may have behavior challenges, we recommend that you stay in the general pool area so that the instructor can get you if necessary. If you do stay around the pool, please stay far enough away from the edge so that you can "see but not be seen." It's usually easier for your child to focus on their lesson if they can forget about you. Your child's instructor will let you know if they would like you to stay closer for any reason.
I missed a class. Is there a way to make it up?
For our group lessons, we allow makeups in another already scheduled class, provided that class is running and is not already full. You must contact your club's aquatics director to find out if there is a makeup option for your child. We do not do pro-rates except in cases of medical emergency.
Private lessons are all a la carte, so you schedule them between yourself and your instructor at your convenience. We do require 24 hours notice to your instructor if you will be absent, or you will be charged.
Can you explain your lesson curriculum?
Our group lessons are based on the Red Cross curriculum. Safety skills are emphasized first, followed by stroke development and endurance.
Private lessons have more flexibility so you and your instructor can discuss what skills you would like worked on the most and how you would like them presented.
All of our instructors are certified as Water Safety Instructors by the Red Cross, meaning they have taken a 35-hour course to learn how to teach swimming to all levels and abilities. Many of our instructors also have competitive swim experience, and a few are also certified personal trainers or certified water exercise instructors.
How do I know what group lesson to register for?
You can see our group lesson level descriptions here. You can also schedule a time for a swim test with your club's aquatics director.
Should I do private or group lessons?
It's completely up to you. Group lessons benefit children who work better seeing other children working, and for children who thrive on the camaraderie of being in a group. They are also at a lower cost but are only offered on select days and times.
Private lessons offer flexibility in scheduling, more time spent swimming, and more adjustability in the methods your instructor uses to teach you/your child. We also offer semi-private lessons for students that are at or near the same level, so if you have a sibling or friend you want to take lessons with, please let us know. Private and semi-private lessons can be scheduled for 30, 45, or 60-minute blocks. Please talk to your instructor to figure out what time block would be most appropriate for you.
Do you offer anything for teens or adults?
We offer a variety of programs beyond our traditional children's programming, including private and semi-private lessons; workshops; stroke clinics; and Swim Fit, our adult lap swimming workout and technique signature group training. We also offer aquatic personal training and a variety of water exercise classes for adults. Please talk to your club's aquatics director for more information.
We also offer Swim Club for junior lap swimmers. Swim Club gives participants a taste of what being on a competitive team is like. Swimmers must be at least 7 years of age and be able to swim 50 yards (1 full lap) independently. Our swimmers compete in quarterly intraclub meets throughout the school year, and multiple interclub meets during the summer.
SaveSaveSaveSaveSaveSave