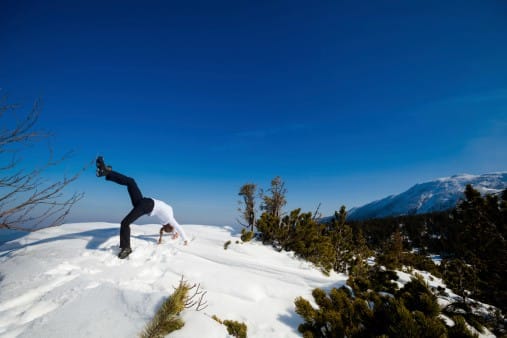 Wisdom Comes with Winters –Oscar Wilde
The first time I came across this quote was in high school.  It was the topic of a college entrance essay to which I was applying.  I remember, clear as day, staring at the blank sheet of paper as if it was looking right back at me just asking for me to think of something clever, meaningful.  I managed to write something witty enough to stand out but meaningful enough to convey thoughtfulness.  The events of this past holiday weekend reminded me of this quote which I have never forgotten, yet I have never really understood, until now.
On Thanksgiving Day, I dressed my kids in their matching outfits, one with a hair bow, the other with a bowtie, and sat down with family for a much anticipated dinner.  Blake, my 8-month-old, would be eating all the traditional favorites for the first time.  And just before I could feed him his last bite of sweet potatoes, his dinner ended up on his bib, and the high chair, and the floor….and me.  Yup, Blake had the stomach flu.  So as a parent, you sigh, change their clothes, change your clothes and start the Pedialyte.  After day 2, Blake was still very sick.  He had no appetite, and neither did I.  My weekend was spent talking to nurses, his pediatrician, my family.  Earlier the next week, he was seen three times by three different doctors.  They assured me he'd get through it, and were kind enough to ask how I was doing.  I was fine. I was running on Diet Mountain Dew, coffee, 5 hours of sleep in the past 48 hours and adrenaline. But, I was fine.
As long as my child was ok, my health was irrelevant.  I didn't care how I was doing. 
Last night, after putting my kids to bed, I got on the scale. (It's funny how exhaustion will make mindless ideas like weighing yourself on the Sunday evening after the biggest food weekend of the year seem brilliant at the time.)  I had lost 6lbs…in 5 days!  I should have been thrilled, but rather, I was left feeling alarmed and quite frankly, a bit sad. I had invested all of my physical and mental energy into worry.  Losing weight shouldn't have happened this way.  For the last month I've been attending classes like Body Pump, Tabata, Spin, Ab-Solution…classes that are designed to tone the body from head to toe.  But last Monday, after stepping off the scale, I was left feeling physically and emotionally spent. It dawned on me then, that it's equally as vital to our health to tone our mind as it is our muscles.
I headed to a yoga class the following morning.
Up until this week, the only thing I really liked about yoga was the pants.  Honestly, I think yoga is really hard.  I'd rather just run a few miles on the treadmill.  But something told me to give it another try, and I'm so thankful I did.  I'm certain I burned a lot of calories, but more importantly, I burned off a lot of stress that had built up from the past week.  Yoga provides an excellent mental workout in that you are constantly concentrating.  It felt as if my mind was working cohesively with my body, and left class feeling stronger, physically and mentally.  I won't lie.  Class was still really tough, and I can guarantee my most graceful pose was walking in the room.  But I've reached the point in my life where I'm looking for more than just a body that mimics Shakira.  (Although, let's be real. I'd find a way to settle with that.) I'm looking for a workout that will also challenge me mentally.  And yoga is the perfect workout in the process of achieving both results.
Wisdom comes with winters.  We all face certain trials, however miniscule they may be, that make us stop and think about the big picture.  The time I have spent this past week, in a "winter" of worry and uncertainty, has shed a light on the importance of taking care of ourselves, not only for our sake, but for the sake of our family, friends, and those who depend on us.  This winter, as the holiday season comes into full-swing, is the perfect time to stop and reflect on what we can do to take better care of ourselves and each other; to be more mindful our self value and how we can develop the wisdom maintain a healthy mind, body and spirit.  You can start off small.  Do ten push-ups every morning.  Give Kale a try.  Or, attend a yoga class at Elite.  There are a ton of them, ranging from hot yoga (more than appropriate for this time of year) to Beginner Yoga, if you're new to the practice.
I'm looking forward to this winter at Elite, and getting the holiday season started off on the right foot!  That is, unless I'm in yoga.  In that case, I balance much better on my left.
By Susan Madden, Member, Mom, and Guest Blogger