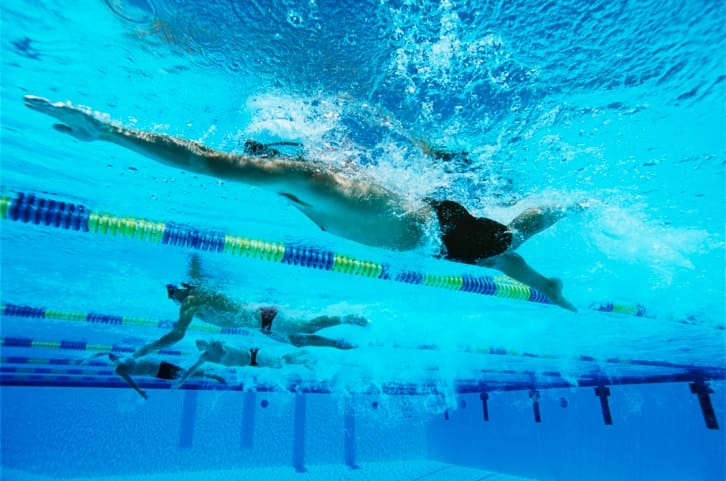 After an invigorating workout full of sweat (and maybe some tears), you feel great. Your blood is pumping, you have more energy, and you feel as if you can take on the world. The only problem is…you actually have to DO the workout.
Sometimes it's harder getting yourself out the door and to your health club than it is to actually lift the weights or run on the treadmill. So how can you get that same great workout in without the dread of dragging yourself to the gym and throwing yourself into another exercise routine?
The answer is simple—swim!
Swimming targets almost all of the central muscle groups, and it's a great way to burn calories. It's healthy for the heart and easy on the joints.
Not sure whether swimming is for you? Check out U.S. Masters Swimming. USMS is a national non-profit organization that supports adult swimmers across the country. For ages 18+, USMS has various clubs and workout groups throughout the United States. You can find a location near you on the USMS website. They offer workouts and classes for all levels of swimmers, including learn-to-swim classes for beginners.
While it gets harder and harder to go to the gym and lift weights, or even get on the treadmill, swimming offers a relief from the stress of aching joints and injuries. Many men and women well into retirement age are part of the USMS program, and continue to swim with enthusiasm.
Swimming is a great way to make some good friends and try something new. The best part about it is that any age and any level of swimmer can do it! The aquatic community is welcoming and encouraging to new swimmers and experienced swimmers alike.
Three of the Elite Sports Clubs locations in the greater Milwaukee area feature indoor and outdoor pools. Even better yet is that they all use a salt water filtration system, which tends to be less harsh on your skin and hair, as well as better for those with chlorine allergies. So, stop on by and get in the pool today!
Schedule a Tour
---
By Amber Marinko; Red Cross Certified Lifeguard at Elite Sports Club-Mequon, Masters swimmer, and Concordia University of Wisconsin Swim Club competitor