John Klein is an experienced tennis pro at Elite Sports Club-Brookfield. He loves helping his tennis students young and old develop their skills and passion for the game. Learn about John's tennis experience and his advice for beginner tennis players!
Meet John Klein
What position(s) do you currently hold at Elite and any you have held in the past?
I am a Certified USPTA Tennis Professional at Elite Sports Club-Brookfield.
How long have you been playing tennis?
I've been playing tennis since 1982. I started working at Elite in August 2022. Some highlights from my career and past experience:
State Ranked as a Junior
Franklin Girls HS Tennis Coach
Taught at Schaumburg Tennis Plus and River Trails
What made you want to become a tennis pro?
I love teaching tennis and seeing people have fun and improve. Teaching tennis is a lot of fun and I think making tennis fun is important. Equally as important is consistent improvement. It is important to take group and private lessons and make sure to play outside those lessons to work on improving. It is never too late to start improving your tennis game.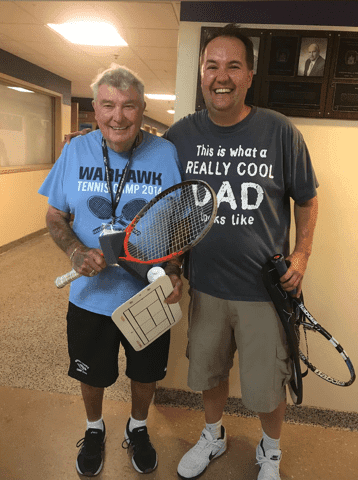 What is your favorite part about your job? About tennis in general?
It is great to be around other professionals that love to teach tennis. We are all part of a team at Elite and have the world's best tennis instructors. No one does better at teaching tennis than the Elite tennis staff.
What activities do you participate in at the club or outside of the club besides tennis?
I enjoy swimming, basketball, fishing, and baseball. In many cases you can find me taking a walk with my wife at Elm Grove Park. I enjoy sitting down and playing the piano as well.
How would you encourage someone who is considering tennis for the first time?
Tennis is a lifelong sport. Health is wealth. It is a great way to have fun while exercising.
What advice do you give people who are just starting out in tennis?
Have fun and be open to try new things. Always be looking to improve and make sure to play on a consistent basis.
---
Are you an experienced tennis player? Have you had a tennis lesson with John Klein? Tell us about your experience, or perhaps your own personal tennis story!
Share Your Story!