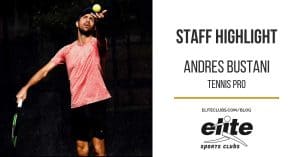 Andres Bustani is a tennis pro at Elite Sports Club-West Brookfield. He joins our talented tennis staff with over 20 years of tennis experience and is looking to share his passion of the game with Elite's members. Learn more about Andres in this tennis pro highlight!
Meet Andres Bustani
What position(s) do you currently hold at Elite and any you have held in the past?
I am a Tennis Professional at Elite Sports Club-West Brookfield.
How long have you been playing tennis?
I've been playing tennis for over 20 years.
What made you want to become a tennis pro?
The love and passion for the game and wanting to share that with other people.
What is your favorite part about your job? About tennis in general?
How fun the sport can be, and it's a sport that can be played by everyone at any level or age.
What activities do you participate in at the club or outside of the club besides tennis?
I go to the gym and lots of walks with my dog.
How would you encourage someone who is considering tennis for the first time?
Tennis is a sport that can be so fun and doesn't have to be competitive. It's also a sport that can be played for your whole life. It's a great way to meet new people and make friends as well.
What advice do you give people who are just starting out in tennis?
Have fun, that's the most important thing. Focus on the ball and really think about the process and not the result.
---
Are you an experienced tennis player? Have you had a tennis lesson with Andres Bustani? Tell us about your experience, or perhaps your own personal tennis story!
Share Your Story!