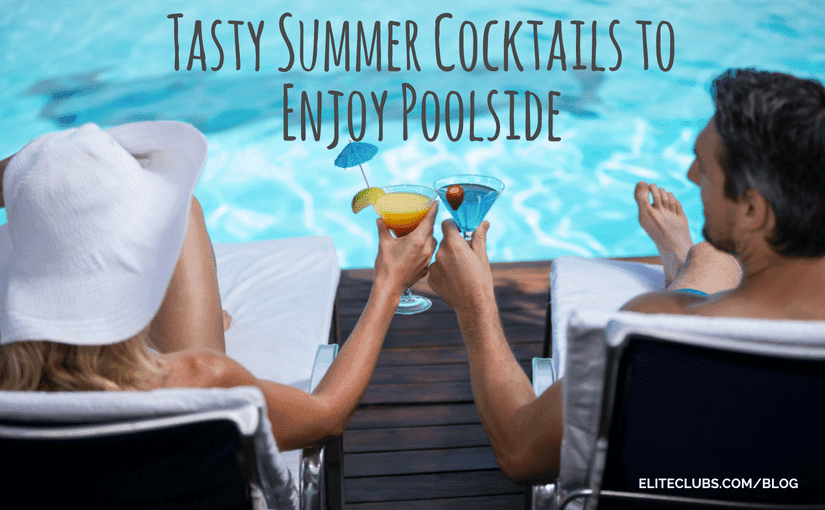 There's nothing like relaxing by the pool on a hot summer's day, whether you're there to soak up some sun or resting after a swim workout. Having a poolside drink in hand adds further enjoyment to your relaxation time, both for hydration and enjoyment. Next time you're at the pool, try these summer cocktails with various nutritious benefits and tasty flavors!
Full of vitamin C, this sweet-tart recipe is sure to be a refreshing new favorite. Muddle a large batch of strawberries and mint in advance to cut down on prep-time!
Ingredients:
2 strawberries
1 sprig of mint
¾ oz. light agave nectar
1 ¾ oz. citrus vodka
¾ oz. lemon juice
Directions:
In a shaker, muddle together mint and strawberries, then add the remaining ingredients. Shake vigorously with ice for 20 seconds. Pour entire contents of shaker into a tall glass. (Include all the mint and strawberry pulp.)
This lower-calorie version of a classic will liven up your next poolside party. Save even more calories by swapping in a sugar substitute.
Ingredients:
2 large limes, cut into pieces
2 cups water
2/3 cup sugar
¼-1/2 cup light rum
½ cup fresh mint leaves
Ice cubes
Quartered limes and/or mint leaves
Directions:
In a blender, combine lime pieces, 2 cups water, and 2/3 cup sugar. Cover and blend about 30 seconds or until limes are chopped; do not puree. Strain through a sieve into a large pitcher. Mix in 2 cups additional water. Cover and chill for 1-12 hours.
Stir rum into lime mixture. Moisten the rims of 8 glasses with the reserved lime piece; dip rims in sugar. Divide mint among glasses. Use a wooden spoon to press mint into the bottom of each glass; press firmly to release flavor. Fill glasses with ice cubes. Pour chilled lime mixture over ice and mint leaves. If desired, add extra quartered limes and/or mint leaves.
Blueberries and agave nectar help to naturally sweeten this drink. Substitute club soda for a refreshing mocktail version.
Ingredients:
10 blueberries
¾ oz. agave nectar
1 ½ oz. gin
¾ oz. lemon juice
Splash of champagne (about 1 oz.)
Directions:
In a shaker, muddle together blueberries and agave. Add the gin and lemon juice, then shake vigorously for 20 seconds. Strain contents of shaker into a martini glass and then top with champagne. Garnish with 3 blueberries on a cocktail stick.
Packed with antioxidants and immune-boosting properties, this drink will taste delicious while helping fight off that summer cold!
Ingredients:
4 cups ice
48 oz. lemonade
½ lime, juiced
20 oz. sparkling water
3 Tbsp. Black Elderberry Syrup
Directions:
Add ice, lemonade, elderberry syrup, and sparkling water to a large pitcher. Stir gently to mix. Serve and enjoy.
Antioxidant-rich pomegranate juice adds health benefits and a refreshing taste. All at about 130 calories per drink, this recipe is a no-brainer.
Ingredients:
1 ½ oz. lemon/lime vodka
1 ½ oz. lemonade
1 ½ oz. pomegranate juice
4 oz. club soda
Directions:
Combine all ingredients. Serve and enjoy.
Spent the day in the sun and need to rehydrate? Try this is alcohol-free, antioxidant-rich alternative.
Ingredients:
4-6 Tbsp loose tea or 4-6 tea bags
1 ½ qts. Cold water
Ice
Lemon wedges
Directions:
Place loose tea into a tea ball or 100% cotton cheesecloth, tying with a string. (Do not use decaffeinated, green, or herbal teas.) Put into a 2-qt. clear glass container. Add cold water. Cover and let stand in sunlight or at room temperature for 2-3 hours. (Keep the container away from combustible materials. Sunlight coming through glass and liquid can concentrate a beam of light that may start a fire.)
Remove tea ball or bags. Serve over ice or refrigerate immediately. If desired, serve with lemon wedges. Store in the refrigerator and use within 24 hours.
With immune-boosting and heart healthy properties, this alcohol-free drink will quench your thirst and your taste buds.
Ingredients:
2 bags of fruit-flavored green tea
½ cup diced pineapple
6 Tbsp. simple syrup*
½ cup ice
¼ ripe honeydew melon, diced
Juice from ¼ of a lemon
Directions:
Brew tea in ½ cup boiling water for 3 minutes, then add ½ cup cold water. Blend fruit and simple syrup (see below) until smooth.
Combine with tea in equal parts in a cocktail shaker. Add ice, shake, and strain into glasses.
*Simple syrup
Ingredients:
2 cups water
2 cups sugar
Directions:
Bring water and sugar to a boil. Reduce heat, simmer 5 minutes, and let cool. Makes about 3 cups.
Get more recipes, follow us on Pinterest!
---
Written by Sarah Brunner, RDN, CD; Elite Sports Clubs Registered Dietitian
Sarah is certified in food allergies/intolerances and nutritional counseling, Academy of Nutrition and Dietetics; has a certificate in Dietetics from Mount Mary University; and a BA in Education and Mathematics from the University of Wisconsin – La Crosse.
SaveSave
SaveSave
SaveSave
SaveSave
SaveSave