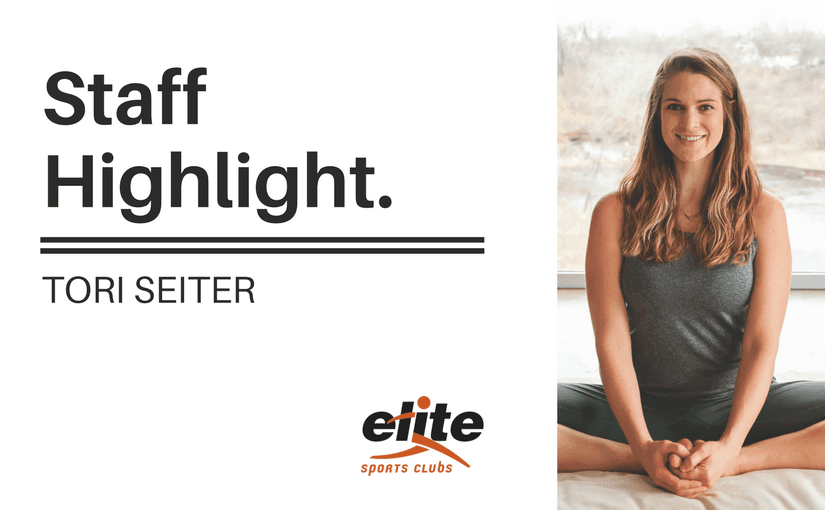 Tori Seiter is an awarded Massage Therapist, Thai Bodyworker, and Certified Health Coach at Elite Sports Clubs. After graduating from the University of Minnesota in Journalism, Tori followed a passion in bodywork. Now a decade later, she understands how lifestyle choices manifest themselves through the body, and that food plus bodywork/movement facilitate the body's natural ability to heal itself. Learn more about Tori Seiter!
Meet Tori Seiter
What position(s) do you currently hold at Elite and any you have held in the past?
Massage Therapist/Thai Bodyworker
How long have you been working in the health/fitness/tennis industry and how long have you worked at Elite?
I came to Elite through Le Club back in 2008! I have been in the Massage Industry going on twelve years.
What made you want to start working in this industry and/or for Elite?
My mom became a Massage Therapist when I was little and she would practice on me all the time. She instilled a deep belief of caring for and respecting the body. After graduating college, I followed a passion of mine and went to massage school. Five years ago I started my Thai Bodywork training; completely changed my life. Brought me back to what my mom taught me all those years ago.
What is your favorite part about your job?
My clients! I have been fortunate enough to have had some amazing clients for many years.
What activities do you participate in at the club or outside of the club that are health/fitness/tennis related?
I used to love taking advantage of the pool. Since having kids, I don't seem to have the time, but I love to be able to pop into a yoga class when time allows. Lately, I have taking my boys hiking. There are so many trails around the area! Anything to get us outside and active is at the top of my list.
What has been your biggest personal struggle with health/fitness/tennis?
I had a bad knee injury, from a running accident, that really took me out for a long time. I have much more compassion for my own clients working through their own injuries now! Being able to move your body is such a blessing. That was 4 years and now two babies ago, and I am in better shape now than before. But other than that my sweet tooth and wine!
What has been your biggest personal accomplishment with health/fitness/tennis?
Since starting at Le Club/Elite Sports Clubs, I have lost over 20 pounds. Definitely not over night but by prioritizing myself.
What advice do you give people who are coming to the club for the first time?
Elite offers SO MUCH. Just take your time and try new things! There are so many people who have the same struggles so try not to get overwhelmed or intimidated. We are all here to live our best life.
What advice do you give people who are struggling to make health/fitness/tennis a priority or are getting bored/burned out?
Ah! So much. As a mom, time is a huge obstacle. I wake up early, before my family, for myself. It allows me to get my head straight, get a workout in, and a hot cup of tea. Eat greens every day. Books and Podcasts keep me inspired. Right now, some of the wellness ones I am listening to: The MindBodyGreen podcast, One Part Podcast, The Inspired Table, and the Melissa Ambrosini Show. I enjoy books by Gabrielle Bernstein and Brene Brown to name a few, but I also have a slight addiction to cookbooks. Pick out a book that speaks to you (the library is great for this), flip through until something catches your eye, and make it! Staying inspired in the kitchen is a game changer and a great way to control what you put in your body!
What personal advice do you give someone who is looking to get to a healthier point in their life in general?
You have heard this before but I will say it again, you have to know your WHY. My Mom died when I was young. So for me, I make it a point to do all that I can to be here for as long as I can for my boys. But also for a good quality of life. I work with people who struggle unnecessarily. I was able to recover well from surgery and babies – that happens when you have a strong foundation! We have so much power over how we feed and move our bodies.
---
Have you gotten a massage from Tori Seiter? Tell us about your experience, or perhaps your own personal health & fitness story!
[maxbutton id="12″ ]
SaveSave
SaveSaveSaveSave
SaveSave
SaveSaveSaveSaveSaveSaveSaveSave
SaveSave
SaveSave