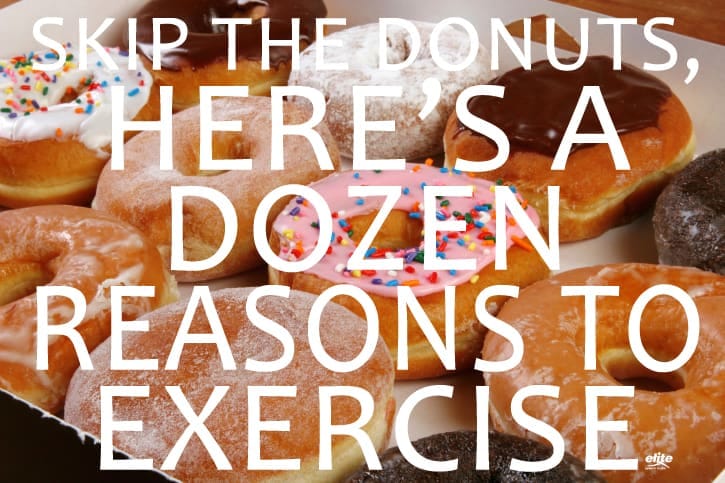 Those of you who made that concerted effort to change your lifestyle for the healthier have probably been bitten by the health bug. You may even feel like shouting off the rooftops the wonderful changes (for the better) you have experienced while becoming more active and eating right. Or at the very least, you are working to get your friends, family, and maybe even co-workers onto the health & fitness train. As many of you have probably realized by now, fitness is more than muscles, it's medicine.
You can't live forever, but you can live well, reduce arthritic pain, maintain your mobility, help prevent dementia and Alzheimer's, & minimize the limitations of aging far into your senior years. Exercise can do all that.
So, if you know someone who needs that extra push to start a fitness regimen, tell them to check out the list of exercise benefits below.
A Dozen Reasons to Exercise
Mortality – Fit people have a death rate four times lower than the unfit.
Arthritis – Regular exercise decreases the likelihood of developing arthritis & related disabilities.
Dementia – Working out for as little as 15 minutes three days a week reduces the risk of dementia and Alzheimer's by 40%.
Diabetes – Vigorous physical activity reduces the risk of developing type 2 diabetes by 23–46%.
Heart Disease – Walking 1-2 or more hours per week reduces the risk of coronary heart disease by 14-52%.
Heart Disease (Women) – Incidence of coronary heart disease is 150% lower among women who exercise regularly as compared with women who don't.
Stroke (Men) – Men who exercise vigorously one to five times per week reduced their risk of stroke by up to 21%.
Depression – Habitual physical activity reduces depressive symptoms and improves emotional well-being.
Osteoporosis (Women) – Aerobic and strength training slow the rate of bone loss in postmenopausal women.
Breast Cancer – Regular exercise reduces breast cancer risk by 37%.
Colon Cancer – Physical activity reduces colon cancer by 47%.
Overall Continued Health – Fitness center members are more likely to pursue health-promoting lifestyles & behaviors.
And don't forget to grab a "Better You Bingo" card from the Front Desk, or stop in to the River Glen location to try "Fitness on Request" to liven up your routine and keep that momentum going!